---
Thursday, June 6th, 2013 | by Adam Kagan
Audio-Technica consistently, and perhaps too quietly, produces high-quality microphones, headphones, mixers and other accessories. In my experience, A-T products often outperform their competitor's products at the same price-point, but Audio-Technica, for some reason, doesn't have the caché of other top brands. I have some A-T 40 Series microphones that have been in my locker for over 20 years — certainly since before I really knew what I was buying. Over time, my taste and understanding of microphones has grown, and the Audio-Technica microphones have held their value and prominence in my daily use. That alone says a lot about what kind of products A-T makes. Over the years, A-T has expanded their microphone line both upward and downward, to include ribbon mics, tube mics and limited edition models, as well as low-priced USB microphones aimed at podcasters.
Most recently, Audio-Technica debuted the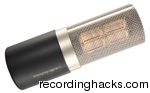 AT5040 large-diaphragm condenser microphone. This mic employs some new technologies and features that will, no doubt, find their way into many upcoming microphones.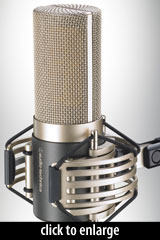 At first glance, the AT8480 shockmount stands out as unique and hi-tech-looking. The shockmount resembles a robotic claw with metal fingers that encircle a bit more than 180 degrees of the microphone. The mount actually consists of a metal frame and an internal magnetically-operated mechanism which closes securely around the microphone's body, locking it in place. In use, the mount operates easily, and deftly holds the microphone in place. It goes without saying that the mount provides a substantial amount of vibration isolation to the mic.
Next, you will notice the color and finish of the microphone. Typically, A-T mics come in either an elegant and camera-friendly black or matte silver finish. The AT5040's lower third sports a dark-grey cylindrical brass body which is topped by a matte-silver cylindrical aluminum windscreen. The mic looks sleek and powerful. Weighing it at just over 20 ounces, the AT5040 feels substantial and begs for a heavy-duty microphone stand.
The next thing you may notice through the mesh windscreen is an array of rectangular diaphragms in place of the typical single circular diaphragm. This design employs some clever engineering to combine the properties of a large surface area, low mass, and low noise floor. The four rectangular diaphragms provide about 50% more surface area than a standard 1-inch circular diaphragm.
The internal amplifier's circuitry has been kept to a minimum for a pure signal path with the least possible coloration. Further, the mic provides no switches for pattern selection, bass rolloff or pad, which would require more circuitry could increase noise. Another point worth noting is the use of electret condenser elements instead of an externally polarized capsule. Without getting into too much detail, electret elements require no power, which provides the designer more control over power-related noise issues and allows the mic to utilize all of the phantom power to energize the internal amplifiers instead of supplying power to the capsule. All of this provides very high headroom and very low self-noise over a wide frequency response. The mic's output level is also on the beefy side, so be prepared to pad your mic preamp on loud sources.
Vocal Sessions
Over a few weeks, I had the pleasure to use the AT5040 on quite a few sessions and many different sources. Audio-Technica touts the AT5040 as its premier vocal mic, so vocals were my first test. On female pop vocals, I put up the AT5040 side-by-side with one of my favorite LDC tube condensers. The first thing I noticed was how smooth the AT5040 is. There is really no hype in any frequency band — even the top feels open and extended but not bright or harsh. This type of frequency response allows easier EQ'ing of instruments, especially if you want to open up the top end of a vocal. Adding highs to this vocal didn't bring out any harshness or sibilance that other mics with high-mid presence peaks may exhibit. Strapping a compressor across the AT5040's output sounded great, too, since the smoothness of the sound didn't produce any "honky" buildup as a side effect of the compression.
Two attributes of the AT5040 justify a few words of advice. First, the microphone shows a large proximity boost. The low frequencies on vocals build up extremely quickly if the singer leans into the mic, so I tended to start with my pop filter about five to eight inches further away from the mic than I normally would.
Second, the cardioid polar pattern seems to have a very directional bias towards high frequencies, so moving only a few degrees off-axis may change the sound in very noticeable ways. Conversely, the low and mid frequencies seem to have a broader pattern, so the ambiance of the room is represented in a warm and cozy way. These points certainly don't detract from the microphone in any way, and can be used to your advantage as you become accustomed to them. For me, the AT5040 may be one of the most neutral vocal mics I have used and would strongly recommend it, especially if uncolored, dynamic and natural sounds are your target.
Acoustic Guitar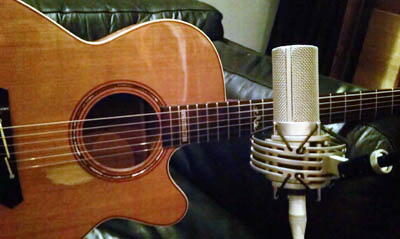 On acoustic guitar, I had the opportunity to record three different players and three different steel-string guitars on the same day, same song, same equipment (don't ask!). In each case, I positioned the AT5040 about six inches from the guitar, about where the neck and body meet and pointed towards the sound-hole. A second LDC condenser was placed about a foot in front of the guitar pointed right at the sound hole. In every case the AT5040 presented a terrific sound–a blend of fullness and high-end detail that could be shaped with EQ to accentuate the body or picking. Both strumming and fingerpicking were evenly reproduced and I found the sound to be very natural, but present enough to fit well in a pop/rock production. As with vocals, small adjustments in the mic's positioning highlighted different aspects of the guitar's tone.
Audio Sample – AT5040 on Acoustic Guitar

Alvarez acoustic guitar, played with very soft fingerpicking. Chandler Little Devil mic pre, no compression, No EQ. Mic placed about 6 inches out from where body and neck meet with mic pointed towards soundhole.

AT5400 on Acoustic Guitar
Electric Guitar Cab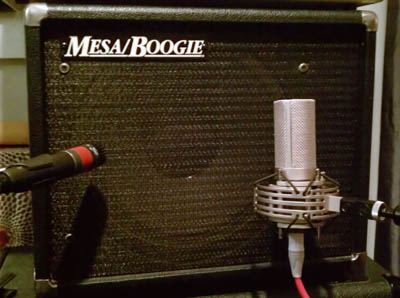 Electric guitar duty came up during a reamping session with a few different amps and speaker setups. Normally, I would use a couple dynamics on the amp and a LDC or ribbon for the room, but in this case I wanted a cozier, more direct sound. Therefore, one mic would be the ticket. I put up my trusty SM57, as well as the AT5040, both positioned about midway between the cone and edge of the speaker, pointed towards the cone, about an inch off the grill. This was not a blazing guitar setup, so I knew the AT5040's output wouldn't fry the mic pre (this time I was using the clean circuit of the Slate FOX). Being alone in the studio, I put on a pair of headphones and moved the mics around while the track played. Again, the AT5040 showed me how sensitive it can be to small changes of angle. I was able to find a nice balance of body and edginess by aiming the mic at different points on the speaker, but this time the proximity effect provided the added body that would normally require a second mic.
Audio Sample – AT5040 on Electric Guitar

Swart Atomic amp, Slate Fox preamp (Vintage mode), no compression, No EQ. Mic placed about 4 inches from 1×12 combo, near edge of speaker, pointed towards center.

AT5400 on Guitar Cab
Tenor Sax
On jazz tenor sax, the AT5040 sat side-by-side with my favorite ribbon mic, again into the Fox preamp's vintage circuit followed by an LA2a. The AT5040 provided a very realistic representation of the sax and room — no hype, just a nice meaty tone with lots of air and space around it. In this example, the ribbon sounded a bit less dimensional, but had the vintage coloration that fit this particular song. Based on these uses, I'm sure that AT5040s would make a fantastic pair for a horn section, string section, drum overheads and piano.
Audio Sample – AT5040 on Tenor Sax

Slate Fox (Vintage mode) with custom LA2a, No EQ. Mic positioned about player's head height and 1 foot in front of bell, pointed towards the player's right hand on body of sax.

AT5400 on Tenor Sax
Percussion & Drums
On congas for the same jazz session, my usual choice of mics would be either a single FET condenser as a sort of overhead for the congas, or two dynamics used as close mics on the heads of each conga. I put the AT5040 about two feet above the pair of congas, and got a very satisfying punchy and focused sound, with enough presence and slap along with a nice amount of room tone.
I would imagine putting a AT5040 a foot or two in front of a kick drum would make a fantastic addition to the typical single inside kick drum mic.
Audio Sample – AT5040 on Drum Room

Neve 8068 Console through 1176 with compressor bypassed, No EQ. The mic is probably 10 feet from the kit, dead center, about six feet off the ground, pointed at kit.

AT5400 on Drum Room
Conclusion
I have been saying for a while now that clean is the new color — and the AT5040 certainly provides all the clean qualities that come along with the term audiophile, including a modern life-like reproduction of the source, without limitations of noise-floor, dynamic range or frequency response. The AT5040 successfully provides the best of large-diaphragm and small diaphragm capsules, along with super-clean electronics and modern styling. The AT5040 would be a worthy consideration if you only have one mic in your studio and would certainly be a beneficial addition to any well-stocked mic locker.
The microphone ships with the AT8480 shockmount in a sturdy molded plastic briefcase. All this comes at a healthy, but not-unreasonable street price of $2,999.00.
matthew mcglynn

Update – we've just published a second review of the AT5040 featuring five top voice actors. Hear them speak (and shout!) into a U87, Gefell UMT70S, Lawson L47, and the AT5040 in our AT5040 Voiceover Mic Review, starring Corey Burton, Tara Platt, Yuri Lowenthal, Stephanie Sheh, and Julie Nathanson.
Posted in Microphones, Reviews | 13 Comments »
---
---
---