---
Monday, January 25th, 2010 | by matthew mcglynn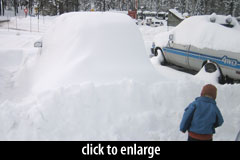 The day after returning home from NAMM, my head full of new product news and ideas for many cool articles, I left for a week's ski vacation at Lake Tahoe. I'm not much of a skier, but I took advantage of the wifi and slammed some brand-new mics into the database during the heaviest snowstorm of the season. At the end of the week, it took my son and I 90 minutes to excavate the car from under approximately 800 lbs of snow.
We made it home safely, but my head is still full of new product news and feature ideas. I'll post a roundup soon.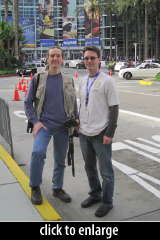 In the meantime, I want to thank Aaron Lyon for enduring three days of microphone tourism in Anaheim with me, and for capturing some of that to video — which we'll be rolling out here shortly.
In the meantime, check out Aaron's NAMM music sampler video, featuring:
the Los Angeles Unified School District All City Marching Band
Night Ranger (playing an acoustic set at the Taylor Guitars booth)
the Wicked Tinkers (didgeridoo, pipes and drums?!)
some dude playing a 7-string bass guitar with a neck wide enough to surf on
and more.
The NAMM show is a great place to get face-to-face with some of the people I've been exchanging emails with for the past three years — people who have been incredibly supportive of my efforts to build the best microphone website in the world.
To name a few: Lonya Nenashev, Chris Nighman, David Bock, Brian Loudenslager, Ken Avant, Glen Heffner, Mattias Strömberg, and Mary Ann Giorgio… thank you all!
I also made some new contacts who will help me to deliver on my promise of more great things for 2010: the crews of Harman (AKG), Sennheiser/Neumann, Lewitt Audio, Miktek, Cloud Microphones, and Sontronics. It's going to be a very interesting year.
Tags: Brent Casey, brian loudenslager, Chris Nighman, david bock, Glen Heffner, John Jennings, Ken Avant, Lonya Nenashev, Mary Ann Giorgio, namm
Posted in News, Video | No Comments »
---
---
---