---
Monday, July 20th, 2009 | by matthew mcglynn
While working on the USB audio interface review, I got to wondering about recording in stereo. Any sort of field recording or concert taping, and many acoustic instruments, would benefit from being recorded in stereo. Is it possible to use two USB microphone interfaces to record in stereo?
Using Mac OS X, it's not only possible, but easy. Following are the simple instructions, a video tutorial, and a video demo of recording a drum kit in stereo via two USB mic pre's.

This tutorial is for OS X only. If you use Windows, the only sure bet I know of is to buy a pair of MicPort Pro interfaces, and use the CEntrance Universal Driver for Windows to aggregate them into a single stereo input device. Note: it doesn't work for Vista, as of this writing. [If there's more to the stereo-USB-recording story under Windows, let me know and I'll post something here.]
Mac users have no need for custom driver software — the OS will aggregate multiple mono sources into a stereo input with no additional software.
Here is a video tutorial showing exactly how to do it:
Here are step-by-step instructions:
Plug two USB mic preamps into two available USB ports on the computer.

Some interface manufacturers warn that USB audio input devices should not be plugged into USB hubs, as they won't get enough bus power for proper operation, so for best results plug the interfaces directly into the computer.

It is not necessary to have two matched USB mic preamps to record in stereo! In the demo below, I used a CEntrance MicPort Pro and a Shure X2U together with great results. The OS doesn't care about the brand name of the input device.

Open the Audio MIDI Setup application. (You'll find it in either the Applications folder, or in the Utilities folder within the Applications folder.)

Under the Audio menu, select Open Aggregate Device Editor. (Click screenshot to see the image in full size.)

Click the + button to create a new aggregate device.

In the lower half of the window, select the two inputs you want to aggregate.

Some USB interfaces have both inputs and outputs. These show up as separate lines in the device listing. Be sure you're selecting the input.

Click Done and exit the program.
Now you can open the Sound Preference Pane (within System Preferences) to see and select the new aggregate stereo device, which will be listed with whatever name you gave it back in the Aggregate Device Editor. (Click the screenshot to see the image in full size.)

Now go into your audio application, such as GarageBand, and select the new aggregate device as your input.
Needless to say, you'll have to be careful about matching gain levels on the two channels, especially if you've used two different brands or models of USB preamp.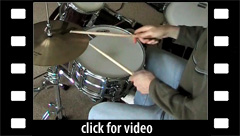 Here is a demo to prove the concept: a stereo recording of a drum kit using two USB mic preamps.
It is not the best drum recording you've ever heard, but it is in stereo.
For the curious, here is the gear used in the drum demo:
CEntrance MicPort Pro – a 24-bit, 96kHz ADC with a high-end mic pre and plenty of gain. Simply put, this mic pre sounds as good as your DAW. ($149.95 at Musician's Friend)
Shure X2U – a fully-featured 16-bit ADC with a nice clean mic preamp, a headphone jack, and a "mix" control for zero-latency monitoring. I think this is the best of the 16-bit USB preamps. ($129 @ Musician's Friend)
See also the aforementioned USB Preamp Shootout.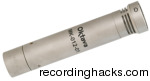 The mics on the kit were my go-to SDC pair, Oktava MK-012s.
OK. Now, for your homework, figure out how to do mid-side recording in GarageBand via USB. 🙂
Tags: centrance micport pro, garageband, shure x2u
Posted in Technique, Video | 3 Comments »
---
---
---