---
Friday, January 9th, 2009 | by matthew mcglynn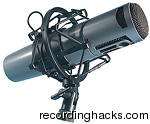 Jerry Silvia's cardioid ribbon mic, the SC-5C, was briefly released in 2006. Silvia Classics then signed an exclusive distribution deal with Telefunken USA, who launched the mic under the name RM-5C.
Despite Telefunken USA's marketing reach, the RM-5C does not appear to be a well-known mic; it has been reviewed only a couple times, and discussed only rarely on the audio forums.
The distribution agreement does not appear to be remembered fondly by either party, so it is not surprising that it has come to an end. As of January 2009, Silvia Classics is now the exclusive distributor of the SC-5C, and will be selling the mics directly via its website and Ebay.
The move includes an aggressive price drop, from $1495 to $789. At the new price, Silvia Classics includes a shockmount, mic clip, foam windscreen, and a carrying case. The SC-5C ships in its original pewter color.
The company is offering a 15-day trial period as well: buy the mic, use it for two weeks, and if you're not satisfied, return it (in new condition) for a full refund. We've seen the same approach elsewhere and applaud it as the best, if not only way to give recordists an honest appraisal of a microphone's sound: try the mic in your own studio, on your own sources, against your own mic collection.
Congratulations to the Silvia Classics crew for taking this major step at rereleasing an innovative microphone that deserves to be heard by a wider audience! And best wishes to Telefunken USA in finding a ribbon mic that better complements its product line.
Posted in Microphones | No Comments »
---
---
---