TapeOp Issue #55/September, 2006 | by John Huebner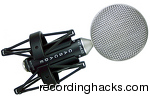 See specifications, reviews, & mods for the Cascade Microphones Fat Head
Like many readers, when I receive Tape Op, I thoroughly take in every page. One items I came across recently was a very small ad for Cascade Microphones. For a while now, I've wanted a ribbon mic to fill the need for different sounds other than what my small collection of condensers and dynamics can provide. With this in mind, I thought I'd check out Cascade's website. What I found was almost too good to be true! There were several mics with bargain price tags, including their Fat Head ribbon microphone! At $159 street, I couldn't pass this up!
They offer a 1-year warranty, so I figured I had little to lose. After ordering, I emailed the company to see if I could get a PDF copy of the Fat Head owner's manual. A representative from the company informed me that they were in the process of creating owner's manuals and all they currently had was the same frequency-response spec-sheet PDF available on the site. The PDF does include some basic notes, but the info is minimal. The rep also told me that I could email him with any further questions or concerns, which was nice. Customer service seems to be lacking these days, so the extra mile is always appreciated.
I received the mic a week or so later. The mic comes with a wooden box, a velvet mic pouch, a cleaning cloth, and a shockmount made especially for the Fat Head. Upon inspection, I felt that the mic and shockmount were of decent build quality. The shockmount was sturdy, and the mic fit into it snugly and stayed put. An impressive deal for only $159. The head of the mic is fairly large at 3'' in diameter, hence the name, and the body is fairly small and thin. It is truly a unique mic with a classic look.
You may be thinking, "How did it sound and perform?" Well, I ran the mic through a tube mic preamp and boosted the gain so it would really open up. The sound of the mic was open, yet warm and definitely natural. I used the Fat Head close-up on acoustic guitar as well as on a small Vox tube amp with an electric guitar, as an overhead for hand percussion, and as a straight-up vocal mic. I was impressed by the variety of sounds I was able to get with this microphone. On close mic'ing, it was very responsive and clear; on overhead applications it picked up the sound of the room beautifully, although it would've been best using a pair of Fat Heads. Vocals were warm and full. Overall, it made my digital tracks sound not so sterile. For me, I liked the Fat Head best on vocals and acoustic guitars.
Bottom line, this mic is very versatile. For those of us who haven't yet entered the world of ribbon mics or just don't have the dough for R84s and the like, the Fat Head is a perfect choice.
Keep your eye on the Cascade website for news about the forthcoming Fat Head with transformer "mod" — your choice of Lundahl or Jensen — for $299. In anticipation of this option, newly manufactured units (with or without the mod) now come with an enlarged body and an upgraded wood box with a nice lacquer finish, plush interior, and silver hinges. The price remains the same for the mic without the mod.
($159 street; Cascade Microphones)
Read more about the Cascade Fat Head ribbon microphone.