Shure PG57 and PG58 Review
Originally published here: http://onstagemag.com/ar/performance_shure_pg_pg/ ; rescued from Internet obscurity 2011-01-17.
by Emile Menasché; July 1, 2002
If any mic manufacturer can claim to be "battle tested," it's Shure. Through several generations of performers, the company's SM57 and SM58 have been the standard by which all other performance dynamic mics are measured. Recently Shure introduced its affordable Performance Gear series, which includes, among other models, the PG57 and PG58, budget-priced cousins of those SM-series classics.
Despite their lower cost, PG mics come with some nice extras, including a soft case and a 15-foot cable. Unlike the more pro-oriented SM series, the PG mics have on/off switches — a feature that can be useful if you're working with a sound-reinforcement system that doesn't have individual channel mutes. However, if you're using the PG58 as a handheld mic, beware of turning it off inadvertently.
The PG57 and PG58 offer the same basic components, including a high-output neodymium dynamic element, a cardioid polar pattern, a sturdy metal housing, and an internal shockmount. The mics appear to be solidly built, and given Shure's reputation for reliability there's every reason to believe they'll last a long time. Both models provide good sound at moderate output, with low noise.
PG57
The classic SM57 is a versatile instrument mic that is particularly effective on electric-guitar amp and snare drum. I tested the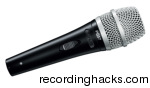 Shure PG57 ($102) on those same two sources and got some impressive results, although the mic's output is less than that of other dynamic instrument mics in my arsenal. On electric guitar, the PG57 has a bright character that brings out the upper mids nicely. A frequency rolloff starting at around 200 Hz helps keep the low mids clear. The PG57 works well for both clean and distorted amp tones. On snare, the mic's tight midrange emphasizes the attack more than the body or rattle of the snare's sound.
▪ Rating (out of 5): 3.5
PG58
One of the most important attributes of a vocal mic is clarity. The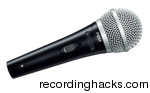 Shure PG58 ($102) does a nice job of capturing articulate detail (thanks to a smooth boost in the highs from 2 kHz to 6 kHz) without also adding a lot of noise. The internal pop screen is effective at taming plosives and breath noise. This complements the effective internal shockmount, which allows the mic to be moved about aggressively without creating excessive handling noise. The PG58 has a very tight polar pattern — good for reducing feedback onstage — and a pleasing proximity effect. The mic sounds best at close range; one inch from the source seemed to be optimal. While not as smooth as an SM58, the PG58's tone is reminiscent of its predecessor, although it has slightly more beef in the mids. Overall, the PG58, like the PG57, offers good performance at a moderate price.
▪ Rating (out of 5): 3.5