Recording Magazine: March, 2010 | by Fernando Curiel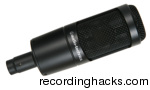 Click to see specifications & reviews for the Audio-Technica AT2035
This vocal mic offers inspiration on a budget
Audio-Technica had its start in 1962 as a manufacturer of phonograph cartridges, in Tokyo, Japan. In 1972 the company established itself in Ohio, and two years later it began to produce headphones based on transducer technology developed in Japan. Since then Audio-Technica has expanded its operations, to become a leader among microphone suppliers.
The 20 series of Audio-Technica mics is focused on low price and high quality. This time around we review the AT2035; it promises to be versatile but is promoted as being especially suited for vocal recordings.
Characteristics
The 2035 is a large-diaphragm side-address condenser mic with a cardioid pickup pattern, a low stated self-noise of 12 dB, a switchable 80 Hz highpass filter, and is capable of handling 158 SPL (with 10 dB pad switched on). It is of robust construction and comes with a shock mount. It is aimed at all types of uses, from home studios to professional studios to live stages. The manufacturer suggests that this is the mic to have if you were to own only one mic in your home studio. Given its popularity with singers, this review will focus on how the mic captures voices.
Click to see technical specs of the AT2035.
In use
During our evaluation we compared the 2035 with a number of mics, some of lesser cost, some of equivalent and higher price ranges. We are indebted to Valerie Koskiniemi, who lent her beautiful voice, her cooperation and her patience to our endeavors — performing the same 3-minute song about 9 times while we recorded her using different mics. It is worth mentioning that we maintained the identical signal flow (cables, preamp, etc.) except for swapping mics, so as to really appreciate the differences. Seeing that Valerie is a coloratura singer we were able to appreciate how each mic responded to a truly dynamic voice, mostly in the soprano range due to the range of the song.
We chose to record without compression so as not to color the tone, which meant we watched the Alpha VHD (SSL) mic pre's level and rode the gain according to the voice's dynamics.
The AT2035 worked just fine with this singer, offering a good balance between the mids and the highs. We used a touch of EQ to get rid of lows that were not needed, increased the high-mids a little to add presence, and the voice sat very well in a mix with bass, drums, guitars and keys. It was a pop-rock song, and the mic's inherent lift at around 13 kHz helped the voice's presence in the mix.
Having all those tracks of the same song to compare helped us judge the outcome with the various mics. As an experienced vocal recordist would know, the more costly mics were not necessarily better for this vocalist on this track; in fact, the mic under review, the AT2035, came away as the favorite in this evaluation. It won mostly on "musicality" grounds, and we admit that this gets us into an area of subjectivity.
Conclusion
In light of the recent flood of mics from suppliers old and new, mostly with products coming from China, Audio-Technica manages to maintain its solid reputation. The AT 2035 inspires confidence with its solid construction and its good looks, and it is an assured and very musical performer. We were not aware of its price during the evaluationóturns out that it holds its own against much more costly competition. We recommend it highly.
Price (as of March, 2010): US $249
| Comments Off on Audio-Technica AT2035 Review