Telefunken Elektroakustik R-F-T M216 Stereo
Multi-Pattern Tube Condenser Stereo Microphone
The "M216 Stereo" is a simpler version of the M216 Matrix. Both are stereo tube mics with large-diaphragm capsules and multiple outputs; the M216 Stereo differs primarily in that the bottom of the two capsules is fixed in Cardioid mode.
The M216 Stereo, aka the M216 Stereo M-S X-Y, has twin large-diaphragm capsules stacked one atop the other. Both are the company's model TK67, a 32mm center-terminated design modeled after Neumann's K67 (which was a 34mm capsule). These are believed to be sourced from an overseas supplier.
The top capsule is a dual-diaphragm design. Its pickup pattern can be switched among nine patterns via a control on the power supply: from Omni to Cardioid (with three intermediate steps), and from Cardioid to Figure-8 (with three intermediate steps).
The top headbasket can be rotated up to 90° with respect to the lower, fixed-position Cardioid capsule. By varying the position and pattern of the top capsule, various single-point stereo pickup patterns can be created:
XY-stereo - set both capsules to Cardioid, offset 90°
Mid-side stereo - set the front-facing capsule to Cardioid, and the side-facing capsule to figure-8
Note that the original M216 Matrix, by virtue of its multipattern control on both capsules, can also provide a Blumlein (crossed figure-8) pattern. Further, the Matrix model includes a Mid-Side decoder in the PSU, whereas the M216 Stereo would require an outboard decoder, or a virtual M-S matrix within the DAW.
Telefunken Elektroakustic advises of another possible usage scenario: record vocals with both capsules simultaneously, using different signal chains for the two capsules to achieve different sound colors or compression ratios.
The mic body contains two separate amplifier circuits (one for each capsule), two AMI BV314 output transformers, and a single twin-triode tube that is described simultaneously as a "6072a General Electric JAN" (12AY7) and "New Old Stock ECC81" (12AT7).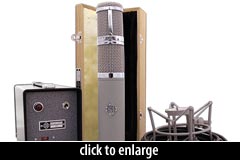 Each M216 microphone is supplied with a padded wooden storage case, M916 power supply, and a 10-meter Gotham Audio power cable. The mic carries a 4-year limited warranty.
The Telefunken Elektroakustik R-F-T M216 Stereo is also known as: M216 Stereo M-S X-Y.
Specifications
Pickup Patterns
Pads & Filters
X/Y Stereo (14 mV/Pa; 20 - 20,000 Hz)
Mid-Side Stereo (14 mV/Pa; 20 - 20,000 Hz)

Capsule Dimensions
Impedance
SPL/Noise
Diaphragm diameter: 25mm
Capsule diameter: 32mm
Diaphragm gauge: 6 microns
200 Ohms (Low)
Max SPL: 125 dB
Self-noise: 20.0 dB(A)
| Weight | Length | Max Diameter | Interface(s) |
| --- | --- | --- | --- |
| 906g (31.96oz) | 298mm (11.73'') | 44mm (1.73'') | |
Power Specifications
Includes tube power supply
Did we get anything wrong on this page? Please let us know!