Telefunken Elektroakustik R-F-T AR-70
Multi-Pattern Tube Condenser Stereo Microphone
The R-F-T AR-70 is a stereo tube condenser microphone. In a sense, it is comprised of two of the company's AR-51 within a single housing.
The AR-51 amplifier circuit incorporates an ECC81/12AT7 dual-triode tube, sourced either from Mullard or RFT, and a Haufe T14-style output transformer. The same transformer is used in the company's 251-series mics, such as the Ela M 251E.
In the AR-70, both of the triode circuits of the tube are used independently, with two independent amplifier circuits and a matched pair of output transformers.
The top capsule is wired for multipattern operation; the external power supply provides a pattern selection switch. The entire top headbasket assembly can be rotated up to 90° to allow either X-Y or Mid-Side coincident stereo recording. (In XY, the top capsule would be set to Cardioid; for M-S, the top capsule would be set to Figure-of-8.)
The AR-70 replaces all three of the M216 stereo tube mics in Telefunken's product line. Due to the AR-70's fixed-Cardioid lower capsule, and the lack of a M-S decoder on the power supply, it most resembles the "M216 Stereo M/S-X/Y," albeit with a different circuit and transformer.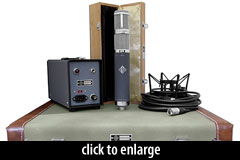 The mic ships with a power supply, cable, elastic shockmount, a padded wooden storage case for the mic, and suitcase.
Permalink: Telefunken Elektroakustik AR-70
The mic was released in 2010.
Specifications
Frequency Response - Omnidirectional

Click Graph to Compare!
Frequency Response - Cardioid

Click Graph to Compare!
Frequency Response - Bidirectional

Click Graph to Compare!
Pickup Patterns
Pads & Filters
Omnidirectional (14 mV/Pa; 90 - 18,000 Hz)
Cardioid (14 mV/Pa; 150 - 18,000 Hz)
Bidirectional (14 mV/Pa; 180 - 18,000 Hz)
X/Y Stereo (14 mV/Pa; 150 - 18,000 Hz)
Mid-Side Stereo (14 mV/Pa; 180 - 18,000 Hz)

Capsule Dimensions
Impedance
SPL/Noise
Diaphragm diameter: 25mm
Capsule diameter: 32mm
Diaphragm gauge: 6 microns
200 Ohms (Low)
Max SPL: 138 dB
Self-noise: 16.0 dB(A)
| Weight | Length | Max Diameter | Interface(s) |
| --- | --- | --- | --- |
| 765g (26.98oz) | 241mm (9.49'') | 44mm (1.73'') | |
Power Specifications
Includes tube power supply
Did we get anything wrong on this page? Please let us know!