Telefunken Elektroakustik R-F-T M216 Matrix
Multi-Pattern Tube Condenser Stereo Microphone
The M216 is a unique multipattern stereo tube microphone; it is essentially two of the company's M16 mics built into one case.
Two 25mm large-diaphragm capsules are stacked vertically; the top one can be offset with respect to the bottom by 90%. Both capsules are dual-diaphragm, multipattern designs; the M916 power supply provides twin 9-position pattern selection controls.
Telefunken USA calls the capsule design "TK67;" it is a 32mm version of the 34mm Neumann K67 capsule, and like the original is center-terminated. These capsules are believed to be sourced from an overseas supplier.
The mic is capable of multiple single-point stereo pickup options, including:
XY-stereo - set both capsules to Cardioid, offset 90°
Mid-side stereo - set the front-facing capsule to Cardioid, and the side-facing capsule to figure-8
Blumlein - Set both capsules to Figure-8, offset 90°
Either capsule could be set to another pattern to tweak the stereo field; e.g., wider or narrower cardioid settings on the "mid" channel of a mid-side arrangement.
The power supply, designed by AMI, contains a mid-side decoder; in "Z40" mode, the two primary XLR outputs provide a L/R stereo feed when the mic is set for mid-side. This is a useful convenience for users whose preamps do not provide m-s decoding. (Mid-side signals could also be decoded with a 3-channel matrix in the DAW or console.)
The power supply also provides a "matrix" mode, in which a second pair of phase-reversed XLR outputs are activated. This produces a quadrasonic output, in that all four diaphragms are sending distinct outputs.
The mic body contains two separate amplifier circuits (one for each capsule), two AMI BV314 output transformers, and a single twin-triode tube that is described simultaneously as a "6072a General Electric JAN" (12AY7) and "New Old Stock ECC81" (12AT7).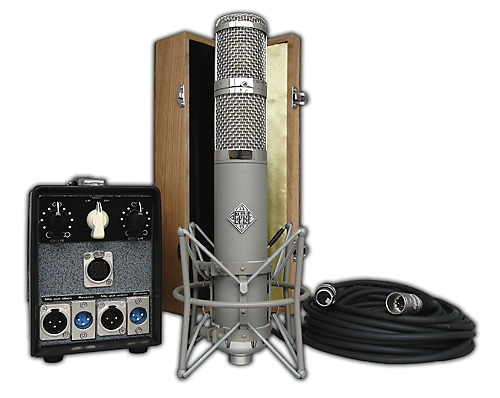 Each M216 microphone is supplied with a padded wooden storage case, M916 power supply, and a 10-meter Gotham Audio power cable. The mic carries a 5-year limited warranty.
The Telefunken Elektroakustik R-F-T M216 Matrix is also known as: Matrix, M-216.
The mic was released in 2008.
Specifications
Pickup Patterns
Pads & Filters
X/Y Stereo (14 mV/Pa; 20 - 20,000 Hz)
Mid-Side Stereo (14 mV/Pa; 20 - 20,000 Hz)
Blumlein (14 mV/Pa; 20 - 20,000 Hz)

Capsule Dimensions
Impedance
SPL/Noise
Diaphragm diameter: 25mm
Capsule diameter: 32mm
Diaphragm gauge: 6 microns
200 Ohms (Low)
Max SPL: 125 dB
Self-noise: 20.0 dB(A)
| Weight | Length | Max Diameter | Interface(s) |
| --- | --- | --- | --- |
| 906g (31.96oz) | 298mm (11.73'') | 44mm (1.73'') | |
Power Specifications
Includes tube power supply
Did we get anything wrong on this page? Please let us know!