Studio Projects C3
Multi-Pattern Condenser Microphone
The Studio Projects C3 is a multipattern large-diaphragm condenser microphone.
The capsule is a dual-diaphragm version of the capsule in the C1; it has twin 26.9mm diaphragms made of 6-micron Mylar. The capsule is modeled after the Neumann K67; it has two backplates and uses center-terminated diaphragms.
As with the C1 (and B series), the C3's impedance conversion circuitry is linear from 50Hz–20kHz.
The mic was introduced at $599 in 2000, and subsequently redesigned around 2006. The following table describes the differences between the two models:
Original C3 (2000)
Revised C3 (2006)
Branding:
Studio Projects / 797 Audio
Red SP badge
Switches:
Two:
1. Pattern (O/8/C)
2. Pad or Filter
Three:
1. Pattern (O/8/C)
2. Pad (-10, Off, -20)
3. Filter (75Hz/Off/150Hz)
XLR housing:
Offset
Centered
Input cap:
Ceramic Disc
Polystyrene
Polarization:
~48VDC
~63VDC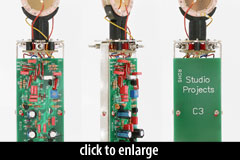 As the table shows, the revised C3 was improved over the original, with an upgraded input coupling cap, and higher polarization voltage to the capsule (which provides higher signal-to-noise ratio). In the samples we've seen, the revised C3 had had all its wire connections on the PCB covered in hot glue; this acts as a sealant and stabilizer to prevent problems of contamination and mechanical vibration.
The revised C3 also offered an expanded feature set. Whereas the original offered a single switch that could enable either a pad or filter, the revised microphone offered independent switches for pad and filter, with three options each (including "off").
Permalink: Studio Projects C3
The mic was released in 2000.
Specifications
Frequency Response - Omnidirectional

Click Graph to Compare!
Frequency Response - Cardioid

Click Graph to Compare!
Frequency Response - Bidirectional

Click Graph to Compare!
Pickup Patterns
Pads & Filters
Omnidirectional (12 mV/Pa; 30 - 20,000 Hz)
Cardioid (12 mV/Pa; 50 - 20,000 Hz)
Bidirectional (12 mV/Pa; 90 - 20,000 Hz)


Pad: -10dB (Detachable)
Filter: HPF: -6dB/octave @ 150Hz (Via Switch)
Capsule Dimensions
Impedance
SPL/Noise
Diaphragm diameter: 26.9mm
Capsule diameter: 34.1mm
Diaphragm gauge: 6 microns
200 Ohms (Low)
Max SPL: 142 dB
Self-noise: 18.0 dB(A)
| Weight | Length | Max Diameter | Interface(s) |
| --- | --- | --- | --- |
| 640g (22.58oz) | 222mm (8.74'') | 52mm (2.05'') | |
Power Specifications
Requires phantom power
Phantom voltage: 48 ± 4v
Did we get anything wrong on this page? Please let us know!