Studio Projects C1
Cardioid Condenser Microphone
The C1 is a fixed-cardioid, large-diaphragm FET condenser mic with a transformerless (Schoeps-style) output circuit.
The capsule is a 34mm K67 derivative from 797 Audio. It has a 26.9mm diaphragm, likely only metallized on the front diaphragm, and is center-terminated.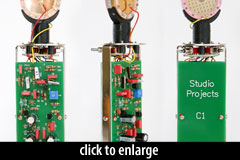 The C1's impedance conversion circuit, according to Brent Casey of PMI, is linear. It is a version of the Schoeps transformerless design, although modified with pad and filter options.
The first version of the mic, which shipped through 2006, differed from the current production version in at least the following respects:
MSRP for the original C1 was $299.99.
The XLR jack on the base of the original C1 was offset to one side.
The revised C1 (circa 2007) uses stronger metal mesh in the headbasket.
The shockmount design changed from a spring-loaded design in the original to a screw-in style in the current version.
The original C1 was cobranded with the 797 Audio logo.
ProAudioReview, 2007

I found the C1 to be a nice choice as a drum overhead microphone when placed a sufficient distance away from my GMS maple drum kit…

From a foot or so back, the C1 captured the sparkle and transient attack of a Rainsong acoustic guitar in a pleasingly realistic way, especially for finger-style playing…

Vocals were a little bit of a mixed bag. Since the C1 has a fairly sizable presence peak extending from about 3 kHz up to 12 kHz, singers that have either sibilant or "bright" voices will probably not find the C1 to their liking.
The Studio Projects C1 is also known as: C-1.
The mic was released in 2000.
Specifications
Frequency Response - Cardioid

Click Graph to Compare!
Pickup Patterns
Pads & Filters
Cardioid (14 mV/Pa; 30 - 20,000 Hz)


Pad: -10dB (Via Switch)
Pad: -20dB (Via Switch)
Filter: HPF: -6dB/octave @ 75Hz (Via Switch)
Filter: HPF: -6dB/octave @ 150Hz (Via Switch)
Capsule Dimensions
Impedance
SPL/Noise
Diaphragm diameter: 26.9mm
Capsule diameter: 34.1mm
Diaphragm gauge: 6 microns
200 Ohms (Low)
Max SPL: 131 dB
Self-noise: 17.0 dB(A)
| Weight | Length | Max Diameter | Interface(s) |
| --- | --- | --- | --- |
| 763g (26.91oz) | 226mm (8.90'') | 53mm (2.09'') | |
Power Specifications
Requires phantom power
Phantom voltage: 48 ± 4v
Did we get anything wrong on this page? Please let us know!