Studio Projects C1 (797)
Cardioid Condenser Microphone
The original Studio Projects C1 microphone is a transformerless FET condenser with a large-diaphragm K67-style capsule and switchable pad and filter. The mic was revised in 2006; the newer version shows the Studio Projects logo, but no cobranding from 797 Audio.
The capsule is a 34mm O.D. K67 derivative. The rear backplate is not brass, but perforated plastic. The rear diaphragm is clear Mylar.
A single 3-way switch on the rear of the microphone body enables either a high-pass filter or -10dB pad. The middle position of the switch disables both features. (To be clear, it is not possible to engage both the pad and filter simultaneously.)
The circuit powers the capsule's backplate with 43.5VDC. This value does not change when the pad is engaged; the pad is created by switching a 150pF ceramic capacitor into the high-impedance circuit.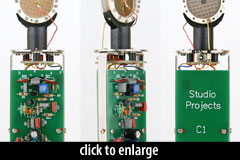 The entire circuit is implemented on a single PCB.
The JFET is a 2N5457. The presence of the trimmer on the circuit board suggests that the JFET was biased after installation.
The original C1 was commonly compared to the Neumann U-87, despite the fact that the circuits of these two microphones are very different from each other.
ProRec.com, 2001

Peggi started singing into the 87. Awesome, that classic Neumann sound that is heard on probably 90% of the records ever made. She then moved over to the C1 and sang into that. EXACTLY the same, no difference. We were all amazed.
DigitalProSound, 2001

Ultimately, each of the Neumanns had a signature sound, as did the Studio Projects C1. Not even taking the price of the C1 into consideration, this mic stood up to some rather hefty opponents, and emerged as a contender. For any studio that runs out of mics quickly, or just doesn't want to bust out the name brand mics for a generic session, it would serve them to have a pair of these around.
Permalink: Studio Projects C1-original
Specifications
Pickup Patterns
Pads & Filters
Cardioid (14 mV/Pa; 20 - 20,000 Hz)


Pad: -10dB (Via Switch)
Filter: HPF: -6dB/octave @ 150 Hz (Via Switch)
Capsule Dimensions
Impedance
SPL/Noise
Diaphragm diameter: 27mm
Capsule diameter: 34mm
Diaphragm gauge: 6 microns
200 Ohms (Low)
Max SPL: 142 dB
Self-noise: 17.0 dB(A)
| Weight | Length | Max Diameter | Interface(s) |
| --- | --- | --- | --- |
| 610g (21.52oz) | 222mm (8.74'') | 52mm (2.05'') | |
Power Specifications
Requires phantom power
Phantom voltage: 48±4v
Did we get anything wrong on this page? Please let us know!