Shure KSM44A
Multi-Pattern Condenser Microphone
The KSM44A is a revised version of Shure's popular KSM44. Both are multipattern, large-diaphragm FET condensers with low-self-noise amplifier circuits. The primary difference between the two is the dynamic range, which jumps from 120dB (KSM44) to 127dB (KSM44A; cardioid, 1000Ω load).
Shure designed the KSM44A specifically to not alter the frequency response of the KSM44.
Like most of the large-diaphragm studio mics from Shure, the KSM44 uses an edge-terminated capsule design with one-inch diaphragms made of 2.5-micron Mylar. These capsules are manufactured by Shure. The same basic capsule design can be found in the KSM44, KSM44A, KSM27, SM27, and Beta 27 (although some of those use a single-diaphragm design).
Process improvements in Shure's capsule facility have resulted in exceptionally consistent results; the 1'' capsule boasts less than 0.5dB variation in frequency response across recent production runs. Although Shure does not "match" pairs of microphones, any pair of KSM44A's (or KSM42s) is likely to be very well-matched due to the tight tolerances maintained by the manufacturing division.
The mic's self-noise and sensitivity vary with pattern. This was true of the KSM44 also. The following table summarizes the differences between the KSM44 and KSM44A, as well as between the polar patterns of each model:
Mic
Pattern
Sensitivity
(mV/Pa)
Self-Noise
(dBA)
KSM44
Omnidirectional
14.2
10
Cardioid
28.2
7
Figure-of-8
15.8
10
KSM44A
Omnidirectional
14.8
6
Cardioid
29.8
4
Figure-of-8
16.8
7.5
The self-noise rating of the KSM44A was verified with the capsule attached to the circuit, in an acoustic chamber capable of measuring noise levels down to 4dBA.
There are three switches on the KSM44A body:
Pattern control: Cardioid, Omni, Figure-of-8
Pad: 0dB (flat), -15dB
High-pass filter: Flat, -6dB/octave @ 115Hz, -18dB/octave @ 80Hz
A non-switchable subsonic filter within the preamplifier eliminates audio noise below 17Hz.
The KSM44A is assembled by hand at Shure's facility in Wheeling, IL.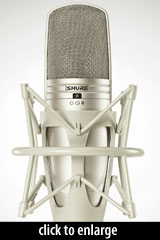 The mic ships with a "ShureLock® Cristal" elastic shockmount (Shure p/n A44ASM) with spare elastics (p/n RK383), a "ShureLock® Cristal" swivel mic clip (p/n A44AM), a velveteen storage pouch (p/n A44AVB), and an aluminum flight case (p/n A44ASC).
What are the differences between the KSM44 and KSM44A?
The 44A's Prethos preamp delivers lower noise, greater dynamic range, and higher max SPL in all three patterns.
The 44A has lower impedance (50Ω vs. 150Ω).
The 44A weighs 1.5g more.
The pad, filters, and pattern selection are the same, as is the capsule.
The KSM44A won a Reader's Choice award from ProSoundWeb in 2010.
Electronic Musician, 2010

The versatile KSM44A offers natural, accurate response on vocals, acoustic instruments, or percussion, and it can also stand up to close-miking a Marshall cabinet… On female vocals, the KSM44A was a great choice — airy and smooth. On male rock vocals, I usually needed to add some EQ around 5k to bring the voice out against guitars in a busy mix.

Having spent some time with the KSM44A, I'm a definite convert to this newcomer. Shure has clearly hit one out of the park.
Permalink: Shure KSM44A
The mic was released in 2010.
Specifications
Frequency Response - Omnidirectional

Click Graph to Compare!
Frequency Response - Cardioid

Click Graph to Compare!
Frequency Response - Bidirectional

Click Graph to Compare!
Pickup Patterns
Pads & Filters
Omnidirectional (14.8 mV/Pa; 20 - 20,000 Hz)
Cardioid (29.8 mV/Pa; 20 - 20,000 Hz)
Bidirectional (16.8 mV/Pa; 20 - 20,000 Hz)


Pad: -15dB (Via Switch)
Filter: HPF: -18dB/octave @ 80Hz (Via Switch)
Filter: HPF: -6dB/octave @ 115Hz (Via Switch)
Capsule Dimensions
Impedance
SPL/Noise
Diameter n/a
Diaphragm gauge: 2.5 microns
50 Ohms (Low)
Max SPL: 152 dB
Self-noise: 4.0 dB(A)
| Weight | Length | Max Diameter | Interface(s) |
| --- | --- | --- | --- |
| 492g (17.35oz) | 187mm (7.36'') | 55mm (2.17'') | |
Power Specifications
Requires phantom power
Phantom voltage: 11–52v
Did we get anything wrong on this page? Please let us know!