---
Monday, September 20th, 2010 | by matthew mcglynn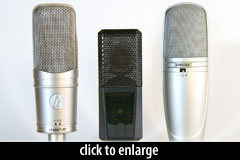 OK, a show of hands… who thinks mic shootouts are bullshit?
Be warned, any of you haters — while you've got your arms waving in the air, I'm going to grab your microphones and run!
Now, I would never claim there is a single best mic for anything. Because if I believed that, the microphone database would only be one page long, instead of 900-and-growing.
There isn't even a single best vocal mic. Or guitar mic, or overhead mic, or even kick-drum mic. Why? Because every voice is different. Every guitar is different. Every kick drum is different (although if you put a D6 on there, maybe they'll all sound the same! 😉 ).
Further, different songs and arrangements call for different sounds. This is one of the reasons professional audio engineers get better results than amateurs; they know what gear to use to get the right sound for that player, song, arrangement, room, and everything else.
So, mic shootouts must be bullshit, right? What's the point of picking a winner given that anyone else who tries to reproduce the results will have a different instrument, musician, song, performance, preamp, console, altitude above sea level, barometric pressure, most recent meal, and so on?
I'll give you two reasons I think mic shootouts are valuable:
They teach you how to listen.
They teach you how unfamiliar microphones respond to different instruments.
Which brings us to last Wednesday night. I got together with two guitarists and three local studio owners to shoot out six large-diaphragm condenser mics. Read on to hear a taste of the Shure KSM44A, the Audio-Technica AT4047MP, the Lewitt Audio LCT-640, the MXL V69ME, and the Audix SCX-25.

The Participants
My favorite way to do a mic shootout is in a group. It gives everyone a chance to get out of the control room for a while — well, out of their own control room — to meet the neighbors and check out some new gear.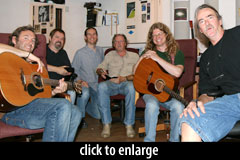 Kenny Evans offered the use of his studio, Mesa Recording. We were joined by Harry Gale of Route 44 Studio and Robert Butler of Coyote Creek Studio, as well as guitarists Seth Dixon and Chris Bramble.
The Contenders
The test was designed primarily to listen to three recently-released multipattern FET condensers. (Click any mic photo or name to see specs, component details, and current sale pricing for any mic.)
Shure recently released the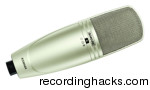 KSM44A, a lower-noise, higher-dynamic-range version of its best multipattern FET LDC, the KSM44. Like the original KSM44, the 44A is a premium all-purpose LDC. Its capsule is a proprietary edge-terminated design.
The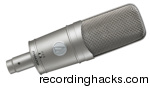 Audio-Technica AT4047MP is a 3-pattern version of the AT4047/SV, a medium-diaphragm FET mic voiced like a "classic FET studio microphone," namely the Fet 47. Technically speaking, the AT4047 mics are not large-diaphragm mics, as the diaphragm diameter measures 21.4mm.
Lewitt Audio, a new Austrian mic company, is about to release the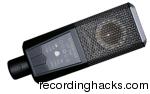 LCT 640. This is a 5-pattern transformerless mic with a K67-style large-diaphragm capsule and extensive pad and filter options.
To those, we added some favorite acoustic guitar mics from our group of participants.
Chris brought in his personal guitar mic, an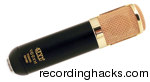 MXL V69 ME with an aftermarket tube upgrade (a Telefunken 12AT7). I didn't open up the mic, but I suspect it uses a K67-style capsule, as do most of MXL's LDCs.
Harry brought his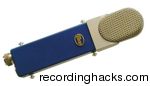 Blue Microphones Blueberry for color contrast. The Blueberry is a bright mic, voiced like the vintage ElaM 251. Its capsule is a proprietary edge-terminated Blue design.
Kenny unearthed one of his pair of first-generation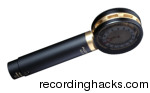 Audix SCX-25's. This is a transformerless FET mic in a lollipop form factor, with a K67-style capsule.
Mic placement, Signal Path and Processing
All mics were positioned identically, about 6 inches away from the 12th fret. We used a Millennia Media HV-3 preamp (built into the TD-1). Converters were MOTU HD192, modded by Black Lion Audio, slaved to a BLA Microclock. We recorded (dry) into Digital Performer at 24-bit, 44.1 kHz.
Later, the raw WAV files were gain-matched in Pro Tools on my BLA-modded Digi 002, then output to 24-bit WAVs that were subsequently dithered, downsampled, and converted to MP3 in Peak Pro. The gain-matched 24-bit WAV files and 16-bit MP3s are available below.
To be clear, we used six mics to record 12 performances. It is my experience that performance differences tend to be greater than the difference between any two high-quality microphones of a similar type. Yet there is no way to fit six mics on a guitar at once. Every shootout is a compromise, one way or another.
Guitar #1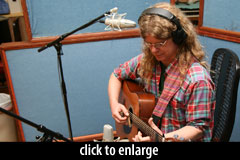 Chris Bramble's guitar is a 1995 Martin D-1. It sounded bright in the room, and somewhat thin through most of the mics we tried. Alternative mic placements would probably have helped bring out more body from the instrument. Still, some mics worked better than others.
[audio:http://recordinghacks.com/sounds/samples/acoustic-ldc/chris2.mp3]

[audio:http://recordinghacks.com/sounds/samples/acoustic-ldc/chris5.mp3]

[audio:http://recordinghacks.com/sounds/samples/acoustic-ldc/chris4.mp3]

[audio:http://recordinghacks.com/sounds/samples/acoustic-ldc/chris1.mp3]

[audio:http://recordinghacks.com/sounds/samples/acoustic-ldc/chris6.mp3]

[audio:http://recordinghacks.com/sounds/samples/acoustic-ldc/chris3.mp3]


[24-bit WAVs: 1, 2, 3, 4, 5, 6.]
Guitar #2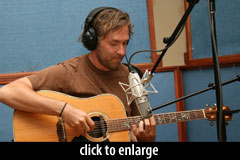 Seth Dixon (who you might remember from our MXL Revelation review) plays an Alvarez PD100S Dreadnought, which sounded pretty balanced in all the mics. In no particular order, here are the same six mics on Seth's guitar:
[audio:http://recordinghacks.com/sounds/samples/acoustic-ldc/seth3.mp3]

[audio:http://recordinghacks.com/sounds/samples/acoustic-ldc/seth1.mp3]

[audio:http://recordinghacks.com/sounds/samples/acoustic-ldc/seth4.mp3]

[audio:http://recordinghacks.com/sounds/samples/acoustic-ldc/seth6.mp3]

[audio:http://recordinghacks.com/sounds/samples/acoustic-ldc/seth5.mp3]

[audio:http://recordinghacks.com/sounds/samples/acoustic-ldc/seth2.mp3]


[24-bit WAVs: 1, 2, 3, 4, 5, 6.]
Notes from the Panel
These two guitars presented different challenges. On Chris' Martin, we wanted to hear more "body" from the guitar. On Seth's Alvarez, we heard plenty of body; the challenge was to reproduce the lows without getting blurred or muddy.
We listened to all 12 samples in the Mesa control room, first "blind" and later with identification. I think it is interesting to note that on this first pass, every mic was criticized for something: "smeary," "wooly," "boxy," "small," etc. After we'd heard everything once, and our ears and expectations had acclimated, we were able to hone in on the best of the available sonic qualities.
Here are some general impressions of each mic:
KSM44A: The Shure sounds big and full, with a tendency to get dark and a bit wooly in the lows on some sources, perhaps due to proximity. It earned points for its "believability" and "midrange girth."
AT4047MP: The Audio-Technica has a clean and clear top end and an even response overall. It seemed smaller and less exciting than the KSM44A.
LCT-640: The Lewitt mic was remarkable for its ability to soften transients. Harry's word for it was "gentle." Most everyone commented that it sounded "warm." Also, unlike some of the mics, this one worked pretty well on both guitars, and managed to bring a lot of tone out of Chris' Martin.
Blueberry: The Blue mic sounded a bit hyped, and lacked bottom end, but had good articulation and clarity.
SCX-25: The Audix was praised both for its detailed mids and smooth, "almost ribbon-like" highs. We liked the balance of the mids through the top end. The lows, in contrast, were not as reliable.
V69ME: The modded MXL earned praise for its presence and "honesty." The lows seemed "tight" and "round," and the highs were clean and clear, although this depended on the source.
As befits our premise, we picked different favorites for each guitar. Yet the concensus favorites at the end of the night presented a contrast to the blind listening results! Read into that what you will. I will say I learned a lot more from listening back to our recorded comments than I'd remembered from having sat through them the first time.
On Chris' Martin guitar, the group liked (in alphabetical order) the Audix SCX-25 and the Shure KSM44A. The Shure seemed "big" and "in your face" and "exciting." But compared to the SCX-25, the Shure drew comments like "understated charm" as compared to the SCX-25's "hyped," "showboat-y," "Hollywood" sound. The group liked both mics. The AT4047MP and LCT-640 were mentioned for second place.
On Seth's Alvarez guitar, all the mics sounded good. With no obvious flaws in any of the tracks, the choices became more subjective. That said, the group liked the modded MXL V69ME best, with the AT4047MP being a second choice. Both were even-sounding and clear. The V69ME had an undeniable presence that the other mics lacked, without being hyped. The group also liked the clarity of the transients with that mic — the sound of the fingers on the strings. The LCT-640 and KSM44A earned "honorable mentions" for their warmth and clarity.
Favorite quotes from the panel:
Harry Gale, describing the Blueberry's articulation of Seth's fingers on the strings: "I can see your fingers plucking those strings. I'm hearing more fingernail. It's a clarity, an articulation… I can hear something that's not pad, it's just a tiny bit of the protein at the end of your fingers!"
Kenny Evans on the MXL V69ME: "For $300, that mic's a #@!&%! buy." (Actually you can buy it for $218 — see V69ME prices and be sure to click to see the "too low to display" listings. Don't forget to upgrade the tube.)
Disclaimer
We have no affiliation with Martin or Alvarez Guitars, with Shure, Audix, Audio-Technica, MXL, Lewitt Audio, or Blue Microphones, and received no compensation for this review.
With Gratitude
Many thanks to the mic vendors who provided gear for this shootout: Shure, Audio-Technica, and Lewitt Audio; to musicians Seth Dixon and Chris Bramble; to Kenny for letting us invade Mesa Recording for a night and for patiently manning the console for the evening; to Harry and Robert for critical listening and commentary.
Posted in Microphones, Reviews, Shootouts | 7 Comments »
---
---
---