RØDE NT2-A
Multi-Pattern Condenser Microphone
The NT2-A is a multipattern FET condenser. It represents a significant upgrade from its predecessor, RØDE's NT2; it offers a 3rd pickup pattern, onboard pad and filters, and a nicer capsule.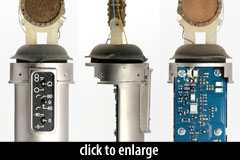 The "HF1" capsule was designed and manufactured in Australia. It is a dual-diaphragm, 25mm edge-terminated design with gold-sputtered 5-micron membranes. (The same capsule is used in the K2 tube condenser.)
RØDE

The frequency and transient response of this new transducer has been voiced to complement today's modern recording techniques, and yet still evoke the silky smooth character of the legendary microphones of the 50's and 60's.
The NT2-A offers three pickup patterns, switched from the front of the microphone body: Omni, Figure 8, and Cardioid. A second 3-way switch enables a high-pass filter: flat, 80Hz, or 40Hz. A third 3-way switch engages the pad: 0dB, -5dB, -10dB.
The mic's circuit was engineered to eliminate switch noise; the pattern, pad, and filter switches cause brief drops in output level, but no sudden pops or transients.
The NT2-A comes in a soft pouch with an M2 stand mount.
Resolution Magazine

The first test for the mic was a straightforward comparison against two ubiquitous studio microphones, a U87 and a C414, on male and female vocals. The first impression is that Rode hasn't produced a 'me too' microphone — its tone is very distinctive. On male vocals it has a slight graveliness to the low mids that isn't unpleasant, giving a slight 'raunch' to the sound rather than the more mellow results of the U87. There is also a hint of sharpness on the high frequencies that is quite revealing of overly sibilant vocals and breath sounds — again it sounds a little brighter than the U87 but not quite as open as the 414 in these ranges. Having said that, it never sounds particularly 'hyped' like some other budget large diaphragm contenders.
The RØDE NT2-A is also known as: NT2A, NT2.
Specifications
Frequency Response - Omnidirectional

Click Graph to Compare!
Frequency Response - Cardioid

Click Graph to Compare!
Pickup Patterns
Pads & Filters
Omnidirectional (16 mV/Pa; 20 - 20,000 Hz)
Cardioid (16 mV/Pa; 20 - 20,000 Hz)
Bidirectional (16 mV/Pa; 20 - 20,000 Hz)


Pad: -5dB (Via Switch)
Pad: -10dB (Via Switch)
Filter: 40 Hz HPF (Via Switch)
Filter: 80 Hz HPF (Via Switch)
Capsule Dimensions
Impedance
SPL/Noise
Diaphragm diameter: 26mm
Diaphragm gauge: 5 microns
200 Ohms (Low)
Max SPL: 147 dB
Self-noise: 7.0 dB(A)
| Weight | Length | Max Diameter | Interface(s) |
| --- | --- | --- | --- |
| 860g (30.34oz) | 209mm (8.23'') | 55mm (2.17'') | |
Power Specifications
Requires phantom power
Phantom voltage: 48v
Did we get anything wrong on this page? Please let us know!