Nevaton MC404
Multi-Pattern Condenser Stereo Microphone
The MC404 is a unique "180°" stereo FET condenser microphone. The two diaphragms of its capsule are connected to two separate output amplifiers.
The capsule measures 28mm in diameter. Each of the 3-micron Mylar diaphragms is wired to a dedicated amplifier circuit; the 5-pin XLR jack provides access to either capsule's signal. The "front" capsule is marked by an LED, although according to ProAudioReview the two outputs on the breakout cable are not marked, making front/rear labels somewhat arbitrary.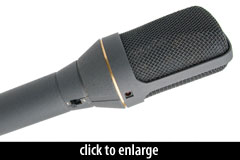 Nevaton bills the MC404 as a stereo mic, although the fixed 180° (back-to-back) arrangement of the two capsules would seem to always put the sound source off-axis, with both capsules recording ambient, reflected sound.
The mic's "mono mode" allows infinite polar-pattern selection via outboard controls during mixdown. A console or DAW can combine the two cardioid signals to produce any desired pattern. For example:
Omni - both capsules at equal gain, in phase
Wide Cardioid - rear capsule 10dB lower than front, in phase
Cardioid - front capsule only
Hypercardioid - rear capsule 10dB lower than front, out of phase
Figure 8 - both capsules at equal gain, out of phase
Find more information and examples on the multitrack microphones page.
Like most of Nevaton's microphones, the MC404 has a brass body finished in a textured gray epoxy.
Also similar to most of Nevaton's mics, the MC404's amplifier circuits are class-A transformerless designs. The MC404 has two — one for each capsule. The mic's self-noise rating is an impressively low 12dBA (despite being cited as 17dBA in some literature).
The Mylar used in Nevaton's diaphragms is from the same source that LOMO used for their microphones during the Soviet era. The material has been stored for over 10 years; it is then stretched to tension on a hoop, and left to age for another year prior to sputtering and installation within a mic capsule. The result is a very stable diaphragm with predictable performance and a long life expectancy.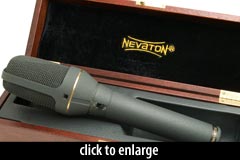 The MC404 ships in a padded hardwood box with a hardcopy frequency plot, an XLR Y-cable (XLR5F to two XLR3M), and an "isolation clip."
ProAudioReview, 2009

My studio's Roland Jazz Chorus 70 guitar amp has the quintessential chorus sound… I positioned the 404 with it and the centers of the two speakers forming an equilateral triangle. I feared I might get a hollow center or excessive stereo imaging, so imagine my surprise at finding a sufficiently strong middle, super width, detailed and fluid imaging… and absolutely no EQ required!
The Nevaton MC404 is also known as: MK404.
Specifications
Frequency Response - Cardioid

Click Graph to Compare!
Frequency Response - Bidirectional

Click Graph to Compare!
Pickup Patterns
Pads & Filters
Omnidirectional (12 mV/Pa; 20 - 20,000 Hz)
Cardioid (12 mV/Pa; 20 - 20,000 Hz)
Bidirectional (12 mV/Pa; 20 - 20,000 Hz)

Capsule Dimensions
Impedance
SPL/Noise
Capsule diameter: 28mm
Diaphragm gauge: 3 microns
50 Ohms (Low)
Max SPL: 134 dB
Self-noise: 12.0 dB(A)
| Weight | Length | Max Diameter | Interface(s) |
| --- | --- | --- | --- |
| 320g (11.29oz) | 225mm (8.86'') | 30mm (1.18'') | |
Power Specifications
Requires phantom power
Phantom voltage: 9-52v
Did we get anything wrong on this page? Please let us know!