Sennheiser Electronics Corporation MKH 800 TWIN
Multi-Pattern Condenser Microphone
The MKH 800 Twin is a small-diameter RF condenser microphone with two cardioid capsules mounted back-to-back. The capsules' outputs are not combined within the mic, but rather wired to separate outputs. This design allows the mic's polar pattern to be selected at mixdown, by combining the two cardioid capsules' outputs in various ways.
The capsules and amplifier circuitry are based on the MKH 800. The capsules use half-inch (12.5mm) diaphragms within a 3/4'' capsule. The output circuit in both mics is transformerless.
Like the MKH 800, the Twin is an RF condenser.
Although the two capsules in the TWIN are identical, the nominal "front" is indicated by the word "FRONT" and a blue LED. The rear is marked with a red LED. The LEDs, when lit, also indicate the presence of phantom power (48v required).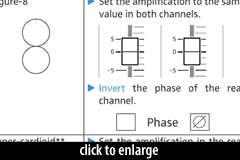 By recording the output of both capsules separately (to two tracks), any degree of directionality from omni to figure-8 — including cardioid front or rear — can be created, even after the recording session. The recordist need only manipulate the gain and phase settings on the two tracks to dial up the desired response. See the chart at right.
The mic's published frequency response is flat from 30Hz to 5kHz, with a gentle +2.5dB presence peak centered at 15kHz. Sennheiser claims the mic can reproduce signals up to 50kHz.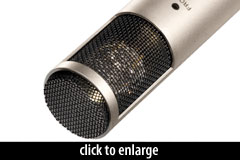 The mic is available in two finish colors:
MKH 800 TWIN Ni - Nickel
MKH 800 TWIN Nx - Nextel (black)
Both colors ship with a mic clip (p/n MZQ 80), a shockmount (p/n MZS80), a Y-cable (XLR5F to dual XLR3M), and an aluminum flight case.
The Sennheiser Electronics Corporation MKH 800 TWIN is also known as: MKH800 Twin.
The mic was released in 2008.
Specifications
Frequency Response - Cardioid

Click Graph to Compare!
| Pickup Patterns | Pads & Filters |
| --- | --- |
| Cardioid (40 mV/Pa; 30 - 50,000 Hz) | |
Capsule Dimensions
Impedance
SPL/Noise
Diaphragm diameter: 12.5mm
Capsule diameter: 19mm

100 Ohms (Low)
Max SPL: 134 dB
Self-noise: 12.0 dB(A)
| Weight | Length | Max Diameter | Interface(s) |
| --- | --- | --- | --- |
| 172g (6.07oz) | 136mm (5.35'') | 27mm (1.06'') | |
Power Specifications
Requires phantom power
Phantom voltage: 48 ± 4v
Did we get anything wrong on this page? Please let us know!