Neumann M 150 Tube
Omnidirectional Tube Condenser Microphone
Intended as a modern recreation of the classic spherical-capsule M 50, the M 150 is also a tube mic with a fixed omnidirectional pickup pattern, designed primarily for ambient sound applications.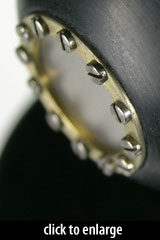 The M 50 introduced an innovative capsule design — by mounting a small-diaphragm capsule onto the face of a 4cm sphere, the resulting frequency response showed a smoother rise with increasing directionality in the mid-to-high frequencies. The M 150 Tube retains this basic design, but changes all the elements:
The sphere in the M50 was a solid, high-density plexiglass/acrylic compound. The sphere in the M150 is the same size (4cm ø), but is hollow, and is made of a softer plastic compound.
The M50's capsule (initially and briefly PVC, then aluminum, then Mylar) is replaced here by a titanium capsule, model K 33 TI. As in the M50's KK50, KK53, and KK83 capsules, the M150's K 33 TI has an approximate diameter of 12mm. The titanium diaphragm measures 5 microns thick.
Both the diaphragm and housing of the new K33TI capsule are constructed of titanium. Otherwise, the K33TI is identical to the earlier K33 capsule, which used a thinner (~2.5-micron) nickel membrane. For more information, see Martin Schneider's AES presentation on omnidirectional spherical capsules (sidebar).
The M 150 Tube, like Neumann's TLM series, has a transformerless (op-amp based) output circuit. Neumann engineers cite numerous advantages of this design: reduced noise, reduced harmonic distortion, transparent amplification, high current output (allowing cable runs of 300m without signal loss).
The tube in the M150, as in the M147 and M149, is a dual triode model 6111, described by Neumann's Martin Schneider as "military grade."
The front grille of the M 150 is sloped, as on numerous other Neumann microphones. This design has the benefit of preventing standing audio waves between the diaphragm and the inside of the grille.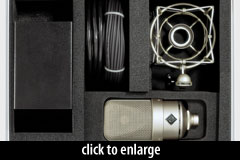 The M 150 Tube mic ships with the external power supply, "8-core" cable (p/n KT 8), suspension shockmount (p/n EA 170), and an aluminum flight case. It is also available in a matched stereo pair kit, with two shockmounts in a large aluminum suitcase.
The mic won a TEC Award in 2002.
Summary of distinguishing characteristics of Neumann's spherical-capsule microphones
M 50
TLM 50
M 150 Tube
Amplifier type
tube (AC701)
FET
tube (6111)
Capsule
KK83
AK 33 TI
K 33 TI
Diaphragm
Mylar
Titanium
Titanium
Output type
transformer
transistor
transistor
Grille
sloped
rounded
sloped

Only the latest version of each mic is indicated; for example, the M50 initially had a KK50 PVC diaphragm, and the TLM 50 had a K33 Nickel capsule.
The AK 33 TI and K 33 TI capsules are believed to be identical, save for the presence of "active" electronics providing a first stage of amplification in the TLM 50.
The Neumann M 150 Tube is also known as: M150.
The mic was released in 2001.
Specifications
Frequency Response - Omnidirectional

Click Graph to Compare!
| Pickup Patterns | Pads & Filters |
| --- | --- |
| Omnidirectional (20 mV/Pa; 20 - 20,000 Hz) | |
Capsule Dimensions
Impedance
SPL/Noise
Diaphragm diameter: 12mm

50 Ohms (Low)
Max SPL: 114 dB
Self-noise: 15.0 dB(A)
| Weight | Length | Max Diameter | Interface(s) |
| --- | --- | --- | --- |
| 800g (28.22oz) | 165mm (6.50'') | 78mm (3.07'') | |
Power Specifications
Includes tube power supply
Did we get anything wrong on this page? Please let us know!