Monoprice 600800
Cardioid Condenser Microphone
The Monoprice 600800 is a small-diaphragm FET condenser with switchable pad and filter. The samples we've seen are identical to the MXL 770 — same capsule, same circuit board, same components and switches, body and paint.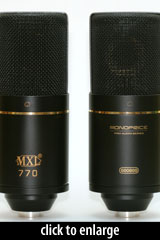 Both the 770 and 600800 use a variation of the transformerless circuitry pioneered by Schoeps. In both cases, the circuit is implemented with through-hole components on a single circuit board.
Two switches on the rear of the microphone independently enable a pad (-10dB) or high-pass filter (-6dB/octave @ 150Hz). These switches operate solidly and appear to be high quality; none of the samples we've seen demonstrate any looseness, jiggling, or ambiguity.
The capsule, although described (as of this writing) on the Monoprice website as "large diaphragm," is in fact MXL's standard 17.1mm small-diaphragm design, about which much more can be read in the "MXL 603S capsule dissection" link in the sidebar. In the 600800, as in the MXL 990 series (and 770), the 22mm O.D. capsule is mounted within a brass baffle ring, which serves to delay the acoustic path around the microphone, thereby improving the mic's Cardioid polar pattern.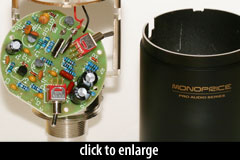 The circuit employed in the 600800 is well understood by the DIY community, due to its heritage, and responds well to aftermarket modification. For example, some of the capacitors can be swapped in order to expand the mic's frequency response. See the sidebar for links to commercial modification options.
The MXL 990S employs the same capsule and circuit, albeit in a shorter case.
The 600800 ships in a padded cardboard box with a black, metal-frame elastic shockmount and a spare set of elastics. The shockmount appears to be identical to the MXL-70 (included with the MXL 770/990S/990).
As of late 2014, the 600800 appears to have been transitioned to a surface-mount circuit board, like the MXL 770. This makes the microphone less useful as a circuit mod platform, although it is still a good candidate for a capsule swap.
Permalink: Monoprice 600800
The mic was released in 2012.
Specifications
Pickup Patterns
Pads & Filters
Cardioid (15 mV/Pa; 30 - 20,000)


Pad: -10dB (Via Switch)
Filter: HPF: -6dB/octave @ 150 (Via Switch)
Capsule Dimensions
Impedance
SPL/Noise
Diaphragm diameter: 17.1mm
Capsule diameter: 19.9mm
Diaphragm gauge: 6 microns
150 Ohms (Low)
Max SPL: 137 dB
Self-noise: 20.0 dB(A)
| Weight | Length | Max Diameter | Interface(s) |
| --- | --- | --- | --- |
| 390g (13.76oz) | 154mm (6.06'') | 60mm (2.36'') | |
Power Specifications
Requires phantom power
Phantom voltage: 48v
Did we get anything wrong on this page? Please let us know!