MXL 770
Cardioid Condenser Microphone
The MXL 770 is a small-diaphragm FET condenser with a transformerless output circuit. It is based on the MXL 990, in that it shares a transformerless circuit design (albeit with the addition of a switchable pad and filter), a case design (although taller here), and a capsule.
Two switches on the rear of the microphone selectively and independently enable a capacitative pad (-10dB) and high-pass filter (-6dB/octave @ 150Hz).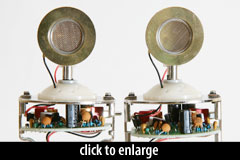 The circuit, as in the MXL 990 and MCA SP-1, is a version of the transformerless design pioneered by Schoeps. It is a well-understood design, and is very responsive to aftermarket modification and upgrades. (See links in sidebar for mod options.)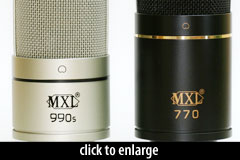 Aside from the finish colors and the height of the microphone, the 770 is identical to the 990S. The latter is part of MXL's "900 Series," manufactured exclusively for Guitar Center and its affiliates.
The capsule is MXL's small-diaphragm model, such as is found in the 603S/604 pencil mics, and the MCA SP-1. As in the SP-1 and 990, the 770 capsule is mounted within a brass baffle ring, which alters the capsule's frequency and polar response as compared to the 603S and 604.
The capsule's diaphragm has a 17mm diameter, with a 20mm backplate. These pieces are assembled by stacking them together within a 22mm OD housing.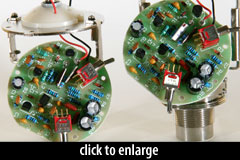 The circuit is a variation on the Schoeps transformerless design; the same circuit (and PCB) is found in the MXL 770. A simpler version, with no pad and filter, is found in the MXL 990, MCA SP-1, MXL 2006, and MXL V63M.
The MXL 770 ships in a padded plastic suitcase with an elastic shockmount (MXL p/n MXL-70).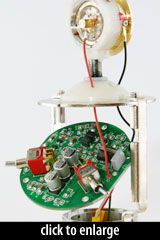 Although the 770 had remained in production with through-hole, leaded components long after the MXL 990 was transitioned to surface-mount, by the Spring of 2014 the 770 had also changed to surface-mount construction.
Permalink: MXL 770
Specifications
Frequency Response - Cardioid

Click Graph to Compare!
Pickup Patterns
Pads & Filters
Cardioid (15 mV/Pa; 30 - 20,000 Hz)


Pad: -10 dB pad (Via Switch)
Filter: HPF: -6dB/octave @ 150 (Via Switch)
Capsule Dimensions
Impedance
SPL/Noise
Diaphragm diameter: 17.1mm
Capsule diameter: 19.9mm
Diaphragm gauge: 6 microns
150 Ohms (Low)
Max SPL: 137 dB
Self-noise: 20.0 dB(A)
| Weight | Length | Max Diameter | Interface(s) |
| --- | --- | --- | --- |
| 390g (13.76oz) | 154mm (6.06'') | 60mm (2.36'') | |
Power Specifications
Requires phantom power
Phantom voltage: 48v
Did we get anything wrong on this page? Please let us know!