Milab Microphones VIP-50
Multi-Pattern Condenser Microphone
The VIP-50 is a premium multipattern FET condenser microphone intended for critical studio applications.
The mic uses Milab's trademark rectangular capsule, the Model 2700. This is a two-piece, dual-diaphragm capsule capable of producing multiple polar patterns. The diaphragm material is Mylar, metallized with aluminum.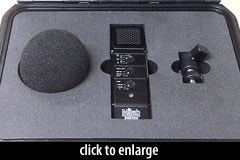 A switch on the front of the mic body enables selection of 5 polar patterns:
Omnidirectional
Wide Cardioid
Cardioid
Hypercardioid
Bidirectional
A second switch enables selection of a high-pass filter: none (flat), 200Hz, or 500Hz. A third switch enables a pad: 0dB, -10dB, -20dB.
The mic's Cardioid pattern is extremely consistent through ±60°. Above 1kHz, the pickup pattern widens slightly, and a rear lobe develops as the mic becomes somewhat less directional at higher frequencies.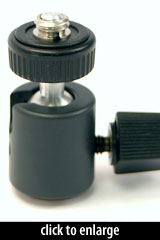 The VIP-50 includes a unique ball-in-socket stand adapter and a foam windscreen. Prior to 2011, the mic and accessories were delivered in a padded black leatherette case. Beginning in 2011, the mic ships in a padded SKB case.
The VIP-50 is available singly or in matched pairs, and includes an individual frequency-response chart.
A very few gold-plated VIP-50 microphones are produced as a part of an annual Milab promotion called the "Golden Microphone Award."
Permalink: Milab Microphones VIP-50
The mic was released in 1983.
Specifications
Pickup Patterns
Pads & Filters
Omnidirectional (14 mV/Pa; 40 - 16,000 Hz)
Cardioid (14 mV/Pa; 40 - 16,000 Hz)
Hypercardioid (14 mV/Pa; 40 - 16,000 Hz)
Bidirectional (14 mV/Pa; 40 - 16,000 Hz)
Wide Cardioid (14 mV/Pa; 40 - 16,000 Hz)


Pad: -10dB (Via Switch)
Pad: -20 (Via Switch)
Filter: HPF: -6dB/octave @ 200Hz (Via Switch)
Filter: HPF: -6dB/octave @ 500HZ (Via Switch)
Capsule Dimensions
Impedance
SPL/Noise
Diameter n/a

200 Ohms (Low)
Max SPL: 132 dB
Self-noise: 19.0 dB(A)
| Weight | Length | Max Diameter | Interface(s) |
| --- | --- | --- | --- |
| 400g (14.11oz) | 170mm (6.69'') | n/a | |
Power Specifications
Requires phantom power
Phantom voltage: 48±4v
Did we get anything wrong on this page? Please let us know!