MXL R144
Bidirectional Ribbon Microphone
The R144 is a budget ribbon microphone. With a street price around $100, it is the least costly ribbon microphone we've seen to date.
This model was initially introduced as the "R44" during the summer of 2009, but by Summer NAMM it had already been renamed to avoid confusion with AEA's rather more expensive R44C.
The only discernable difference, besides the name, is the color: the R44's purple body paint had been swapped for cobalt blue.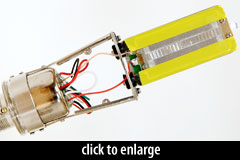 The ribbon is made of corrugated 1.8-micron aluminum. MXL documents the ribbon length at 47mm, but it is not clear whether that is the full length of the ribbon or the length of the magnets. (See Michael Joly's article on ribbon motor architecture, linked from the sidebar, for more information.)
The R144 includes a micro-fiber cleaning cloth, a ring mount (MXL p/n V6-H), and an elastic shockmount (p/n MXL-06).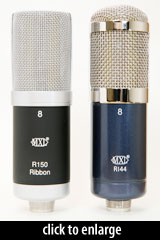 The R144 is internally identical to the less costly R150; the differences between these mics seems to be limited to the body finish and accessories.
Sound on Sound, 2011

The R144's tonality — which seems almost identical for the front and rear of the mic — is well-suited to smoothing out the high end of bowed strings and the fizzy edge of some guitar amps. My test with a guitar amp easily delivered very usable results, especially for capturing a fluid blues tone.

[Although] the high end had a distinctly different colour to that of the Coles 4038 (which is nominally flat up to 17kHz), I rather liked it from a musical viewpoint.
Permalink: MXL R144
The mic was released in 2009.
Specifications
Frequency Response - Bidirectional

Click Graph to Compare!
| Pickup Patterns | Pads & Filters |
| --- | --- |
| Bidirectional (1.6 mV/Pa; 20 - 17,000 Hz) | |
| Ribbon Construction | Impedance | SPL/Noise |
| --- | --- | --- |
| 47mm, 1.8-micron aluminum ribbon | 250 Ohms (Low) | Max SPL: 130 dB |
| Weight | Length | Max Diameter | Interface(s) |
| --- | --- | --- | --- |
| 400g (14.11oz) | 171mm (6.73'') | 47mm (1.85'') | |
Did we get anything wrong on this page? Please let us know!