MXL R150
Bidirectional Ribbon Microphone
MXL R150 is a low cost side-address ribbon microphone with figure-8 polar pattern.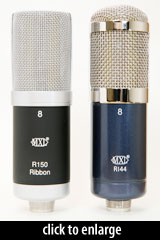 The R150 and R144 microphones are similar in size and shape, but use different metalwork. The R150 body is essentially the same as the V250 condenser body, while the R144 body is essentially the same as the 550 condenser body.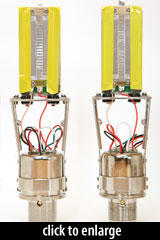 But under these different exteriors, the R144 and R150 appear to use identical ribbon motors.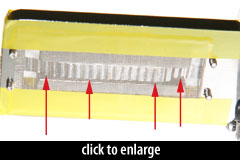 Ribbon microphones, much more so than condensers, are sensitive to slight variances in material quality, finish, and tolerances. In the low-cost ribbon mics we've seen, inadequate quality control leads to the sale of severely compromised microphones. See the R150 pictured at right; the ribbon was not tensioned correctly, or was stretched after installation. It sags forward, even when held vertically, such that the ribbon nearly rests on the blast screen. It is unlikely this particular microphone will sound as it was intended to sound.
The published frequency curve for the R150 shows a low-mid boost and a high rolloff starting around 10kHz.
The R150 ships with microfiber polishing cloth and MXL-56 elastic shockmount.
The MXL R150 is also known as: R-150.
Specifications
| Pickup Patterns | Pads & Filters |
| --- | --- |
| Bidirectional (1.5849 mV/Pa; 20 - 17,000 Hz) | |
Ribbon Construction
Impedance
SPL/Noise
Length: 47mm
Gauge: 1.8 microns
250 Ohms (Low)
Max SPL: 130 dB

| Weight | Length | Max Diameter | Interface(s) |
| --- | --- | --- | --- |
| 365g (12.87oz) | 141mm (5.55'') | 50mm (1.97'') | |
Did we get anything wrong on this page? Please let us know!