MXL 603S
Detachable-Capsule Pencil Condenser Microphone
The MXL 603 is a small-diaphragm pencil condenser mic that is well regarded on the pro-audio forums for use in typical SDC applications such as drum overheads and acoustic guitar. It is also a common platform for mods; see the sidebar links for more info.
The diaphragm measures 17mm in diameter, and is mounted to a 20mm backplate whose outside housing diameter is 22mm. The Mylar membrane is 6 microns thick and plated with gold. (The same capsule is used in numerous other MXL mics; see the 603S listing for more.)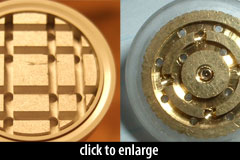 The capsule used in the MXL 603 and 604 was designed as a copy of the Neumann KM-84 capsule, although in place of Neumann's "crossed-slits" backplate design, the MXL version uses annular (circular) grooves to achieve similar effect. This capsule is generally regarded as an excellent performer for the cost.
(KM-84 capsule photo credit: Klaus Heyne / GermanMasterworks.com)
Although the 603S ships with only a cardioid capsule, it is compatible with the omni capsule sold with the MXL 604. The 603S capsule can be detached.
Mounted to the 603S, the Cardioid capsule is somewhat less sensitive (10 mV/Pa) than when on the 604 (15 mV/Pa).
The transformerless preamp circuit uses a 2SK170BL FET and is based on the Schoeps CM4 design. Internal wiring uses Mogami cables.
The mic body has a satin silver finish. It ships with a mic clip.
Harvey Gerst

Marshall MXL-603 … This was a flat-out winner, folks. Almost identical to the MC012 in sound.
MojoPie

Initially, I was surprised and impressed at how much MX603 indeed does sound like an Oktava MC012. After a lot of use, I got over this first impression. In a nutshell, you're not going to get a lot of bass out of these mics. It is slightly brighter than most small diaphragm condensers on the market including the MC012…
The 603 has been reported by various parties to have been manufactured by Alctron, Feilo, and most recently at MXL's own facility in China.
The MXL 603S is also known as: 603.
The mic was released in 2000.
Specifications
Compatible Capsules
MXL 603/604 Cardioid
17mm Cardioid capsule
Sensitivity: 15 mV/Pa
Freq. Resp.: 30 - 20,000 Hz
MSRP: $79 | Still In Production
MXL 603/604 Omni
17mm Omnidirectional capsule
Sensitivity: 15 mV/Pa
Freq. Resp.: 30 - 20,000 Hz
MSRP: $79 | Still In Production
MXL 604-H Hypercardioid
17mm Hypercardioid capsule
Sensitivity: mV/Pa
Freq. Resp.: n/a
MSRP: n/a | Still In Production
OktavaMod MJE-K47H
large diaphragm Cardioid capsule
Sensitivity: n/a mV/Pa
Freq. Resp.: n/a
MSRP: $349 | Still In Production
Pads & Filters
Impedance
SPL/Noise
n/a
150 Ohms (Low)
Max SPL: 137 dB
Self-noise: 18.0 dB(A)
| Weight | Length | Max Diameter | Interface(s) |
| --- | --- | --- | --- |
| 136g (4.80oz) | 133mm (5.24'') | 22mm (0.87'') | |
Power Specifications
Requires phantom power
Phantom voltage: 48v
Did we get anything wrong on this page? Please let us know!