MXL 604
Detachable-Capsule Pencil Condenser Microphone
The MXL 604 is a detachable-capsule FET condenser in a classic "pencil mic" form factor. It is similar to the MXL 603S, but adds a high-pass filter and -10dB pad to the 603S design.
Note that the HPF and pad are on the same switch; either the HPF, or the pad can be engaged, but not both simultaneously.
Like the 603/603S, the 604 has a transformerless output circuit that is said to "[provide] a solid bottom and an extremely open top end sound."
The mic's capsule, generally referred to as the "603" capsule (because it originally appeared on the MXL 603), has a 17mm diameter diaphragm stacked onto a 20mm backplate, mounted within a 22mm (OD) housing.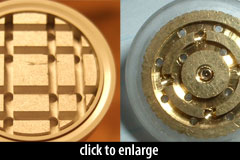 It was designed as a copy of the Neumann KM-84 capsule, although in place of Neumann's "crossed-slits" backplate design, the MXL version uses annular (circular) slits to achieve similar effect. This capsule is generally regarded as an excellent performer for the cost.
The 604's cardioid and omni capsules are interchangeable with the 603S.
The MXL 604 is supplied with mic clip, a windscreen, and a wood storage box.
Note that the mic's specs have changed over the years. The manual included with 2010 models shows the self-noise at 18dBA (not 17dBA as previously published), impedance at 200Ω (up from 150Ω), sensitivity at 10mV/Pa (down from 15mV/Pa), and max SPL at 134dB (down from 137dB). Whether these changes reflect improvements in measurement systems, or component changes within the microphone is unknown.
Permalink: MXL 604
The mic was released in 2002.
Specifications
Compatible Capsules
MXL 603/604 Cardioid
17mm Cardioid capsule
Sensitivity: 15 mV/Pa
Freq. Resp.: 30 - 20,000 Hz
MSRP: $79 | Still In Production
MXL 603/604 Omni
17mm Omnidirectional capsule
Sensitivity: 15 mV/Pa
Freq. Resp.: 30 - 20,000 Hz
MSRP: $79 | Still In Production
MXL 604-H Hypercardioid
17mm Hypercardioid capsule
Sensitivity: mV/Pa
Freq. Resp.: n/a
MSRP: n/a | Still In Production
OktavaMod MJE-K47H
large diaphragm Cardioid capsule
Sensitivity: n/a mV/Pa
Freq. Resp.: n/a
MSRP: $349 | Still In Production
Pads & Filters
Impedance
SPL/Noise

Pad: -10 dB pad (Via Switch)
Filter: HPF: -6dB/octave @ 150 Hz (Via Switch)

200 Ohms (Low)
Max SPL: 134 dB
Self-noise: 18.0 dB(A)
| Weight | Length | Max Diameter | Interface(s) |
| --- | --- | --- | --- |
| 130g (4.59oz) | 135mm (5.31'') | 22mm (0.87'') | |
Power Specifications
Requires phantom power
Phantom voltage: 48v
Did we get anything wrong on this page? Please let us know!