MXL 2003
Cardioid Condenser Microphone
The MXL 2003 is a large-diaphragm, fixed-cardioid transformerless FET condenser mic. It is equipped with a high pass filter and -10dB pad.
The capsule uses a 3-micron diaphragm measuring 27mm in diameter, and is believed to have been made by 797 Audio.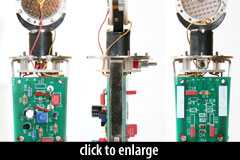 The three circuit boards used "through-hole" components, and appear to have been built in the US (based on the silkscreened legend on each board, e.g. "USA NO.1", "USA NO.2", etc.
The components are of generally high quality, including Wima film capacitors and a Siliconix J305 JFET. The use of a trimpot on the PCB suggests that the circuit was tuned and optimized after construction.
The circuit appears to be a derivative of the Schoeps transformerless design, with the familiar transistor output stage (2N5401), plus the DC oscillator circuit that shows up on most imported transformerless condensers. It is worth noting that the DC board has room for a second voltage doubler, suggesting that it was borrowed from a 3-pattern mic (as the second doubler is required to provide the +120VDC feed for Fig-8).
In the sample 2003 that we inspected, the front diaphragm is grounded. The backplate is polarized to +40VDC — somewhat low for the LDC capsule.
The MXL 2003 comes with an elastic shock mount (MXL 56).
SoundOnSound

The MXL 2003 is recommended for situations where extra presence and transparency are needed … With some singers, the character of the mic can be slightly aggressive, as I found out during a recording session with a certain particularly raunchy female vocalist, but for anyone in need of air and projection, it actually works very well for adding sparkle without harshness. At the same time, the bottom end remains full and warm, but without the slightly soft character produced by the transformer models in the range.
The MXL 2003 was replaced in 2009 with the 2003A, which uses a different capsule and upgraded electronics.
MIX, 2000

[T]he MXL2003 strikes me as a mic that could very easily find a home in broadcast, ADR and Foley applications, in addition to a multitude of music chores…

In terms of workmanship, these products have a look and feel that is the mark of well-made equipment. At this price point, there really isn't anything to complain about…
At the time of the mic's release, its MSRP was $399. More recently, the price has dropped below $200 (list).
Permalink: MXL 2003
The mic was released in 2002.
Specifications
Frequency Response - Cardioid

Click Graph to Compare!
Pickup Patterns
Pads & Filters
Cardioid (16 mV/Pa; 20 - 23,000 Hz)


Pad: -10 dB (Via Switch)
Filter: HPF: -6 dB @ 150 Hz (Via Switch)
Capsule Dimensions
Impedance
SPL/Noise
Diaphragm diameter: 27mm
Diaphragm gauge: 3 microns
150 Ohms (Low)
Max SPL: 140 dB
Self-noise: 18.0 dB(A)
| Weight | Length | Max Diameter | Interface(s) |
| --- | --- | --- | --- |
| 590g (20.81oz) | 195mm (7.68'') | 55mm (2.17'') | |
Power Specifications
Requires phantom power
Phantom voltage: 48 ± 5v
Did we get anything wrong on this page? Please let us know!