MXL 2003A
Cardioid Condenser Microphone
MXL's 2003A is a revamp of the popular model 2003. Both are side-address, large-diaphragm, fixed-cardioid, transformerless FET condensers with a tapered body style.
That said, the 2003A "is for all intents and purposes a completely new microphone," according to Roy Harper of MXL.
The 2003A capsule measures 32mm and uses a 3-micron diaphragm. The front diaphragm is gold-sputtered and center-terminated; the rear is clear Mylar. The front backplate appears to be a K67 type; the rear backplate has fewer, larger holes. According to MXL, the 2003A capsule is tuned differently than the capsule in the original 2003.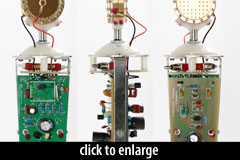 The amplifier circuit was redesigned, resulting in (among other changes) a decrease in sensitivity, from 16 mV/Pa to 7.1 mV/Pa, and a decrease in self-noise from 18dBA to 11 dBA. The circuit is transformerless, and is built with through-hole components.
In our testing, the capsule polarization voltage is 61VDC. The JFET (mounted under a plastic box on the circuit board) is a 2SK170GL.
This new version of the mic has a significantly less hyped top end than MXL's other transformerless LDCs (such as the V57, V63M, 2006). In our own testing, the 2003A's presence peak is 3dB lower in amplitude than a V57/V63M at 12kHz.
Like the 2003, the 2003A ships with an elastic shockmount (MXL p/n MXL-56).
Permalink: MXL 2003A
The mic was released in 2009.
Specifications
Frequency Response - Cardioid

Click Graph to Compare!
Pickup Patterns
Pads & Filters
Cardioid (7.1 mV/Pa; 20 - 20,000 Hz)


Pad: -10dB (Via Switch)
Filter: HPF: -6dB/octave @ 150Hz (Via Switch)
Capsule Dimensions
Impedance
SPL/Noise
Diaphragm diameter: 25mm
Capsule diameter: 32mm
Diaphragm gauge: 3 microns
200 Ohms (Low)
Max SPL: 152 dB
Self-noise: 11.0 dB(A)
| Weight | Length | Max Diameter | Interface(s) |
| --- | --- | --- | --- |
| 454g (16.01oz) | 190mm (7.48'') | 50mm (1.97'') | |
Power Specifications
Requires phantom power
Phantom voltage: 48 ± 4v
Did we get anything wrong on this page? Please let us know!