Lewitt Audio LCT 140
Cardioid Pencil Condenser Microphone
The LCT 140 is the entry-level pencil condenser microphone in Lewitt Audio's Authentica series. It has a fixed cardioid polar pattern.
The mic's capsule is a 17mm (2/3 inch) back-electret design, similar to the capsule found in the company's LCT 240.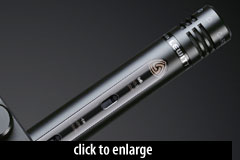 Also like the LCT 240, the 140 provides electronically-switched pad and filter controls. One pushbutton cycles through three pad options — 0dB (disengaged), -10dB, -20dB. A second pushbutton cycles through three high-pass filter options — 0dB (disengaged), -6dB/octave rolloff @ 300Hz, -12dB/octave cutoff @ 40Hz. The current selection for each of these is indicated by a backlighted legend on the microphone body; these LEDs can be disabled.
Note that the pad and filter options are identical to those on the LCT 240. The 140's self-noise is 3dB lower (16dBA), but its max SPL is 9dB lower (160dB @ 0.5% distortion, with -20dB pad engaged). Finally, the 140 is 2dB more sensitive — suggesting that the LCT 140 would likely fare better than the 240 for recording quiet acoustic instruments or distant-miking ensembles.
Like all the mics in the Authentica series, the LCT 140 uses surface-mount components, and a transformerless output circuit in its amplifier.
Lewitt Audio's LCT 340 is the higher-end pencil mic in the Authentica series; in contrast to the 140's fixed-cardioid electret capsule, the 340 offers detachable "true condensesr" capsules in cardioid and omni patterns. The LCT 340 is both higher in sensitivity and lower in self-noise than the 140.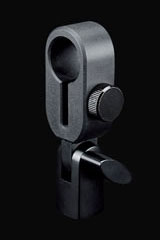 The mic ships in a foam-lined cardboard box. It includes a rubberized mic clip (Lewitt Audio p/n DTP 40 Mts), foam windscreen (LCT 40 Wx), and leather storage pouch (p/n DTP 40 Lb).
Permalink: Lewitt Audio LCT-140
The mic was released in 2010.
Specifications
Frequency Response - Cardioid

Click Graph to Compare!
Pickup Patterns
Pads & Filters
Cardioid (10 mV/Pa; 60 - 20,000 Hz)


Pad: -10dB (Via Switch)
Pad: -20dB (Via Switch)
Filter: HPF: -6dB/octave @ 300 Hz (Via Switch)
Filter: HPF: -12dB/octave @ 40Hz (Via Switch)
Capsule Dimensions
Impedance
SPL/Noise
Diaphragm diameter: 17mm

150 Ohms (Low)
Max SPL: 160 dB
Self-noise: 16.0 dB(A)
| Weight | Length | Max Diameter | Interface(s) |
| --- | --- | --- | --- |
| 192g (6.77oz) | 160mm (6.30'') | 24mm (0.94'') | |
Power Specifications
Requires phantom power
Phantom voltage: 48 ± 4v
Did we get anything wrong on this page? Please let us know!