JZ Microphones BT-301
Cardioid Pencil Condenser Microphone
The BT-301 is a medium-diaphragm FET condenser mic, based on the electronics and packaging of JZ's innovative BT-201. Both are low-noise transformerless designs.
The BT-301's self-noise rating is 5.5 dBA, which places it among the five quietest condensers on the market.
The amplifier circuit from the 201 is modified for use in the 301, to accommodate the higher voltage needs of the larger capsule.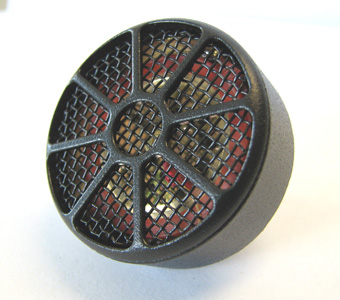 Whereas the BT-201 capsules measure 13mm in diameter, the BT-301 capsule has a 21mm diameter diaphragm (active/suspended area), on a 29.75mm backplate. Note that the BT-301 capsule is not detachable; the assembly is screwed onto the head amplifier body.
The capsule is encased in a metal basket with a relatively open-weave screen, supplemented with a "wagon wheel" cap for additional physical protection.

The diaphragm is believed to be 4-micron Mylar, as in the BT-201. The membrane is metallized via JZ's proprietary "Golden Drop" technology, in which droplets of gold alloy are deposited onto the plastic film in a precise pattern.
The electronic components in the BT-301, as in the BH-1S, are selected with very high tolerances.
JZ Mics

Electronic components selected to fit our products have [a] maximum difference of 1.5% in their technical specifications. Only 35% of electronic components can pass [this] test.

[The] BH1S and BT301 series microphones use custom-made components [with a] maximum allowed difference is 0.4%; therefore JZ Microphones gives a lifetime warranty for BH1s and BT301 microphones.
JZ presents the BT-301 for use primarily on acoustic guitar and stringed instruments. The mic is considered a "limited edition," which means JZ will sell at most 70–100 units per year.
The JZ Microphones BT-301 is also known as: BT301.
The mic was released in 2009.
Specifications
Frequency Response - Cardioid

Click Graph to Compare!
| Pickup Patterns | Pads & Filters |
| --- | --- |
| Cardioid (33 mV/Pa; 20 - 20,000 Hz) | |
Capsule Dimensions
Impedance
SPL/Noise
Diaphragm diameter: 21mm
Capsule diameter: 29.75mm
Diaphragm gauge: 4 microns
50 Ohms (Low)
Max SPL: 133 dB
Self-noise: 5.5 dB(A)
| Weight | Length | Max Diameter | Interface(s) |
| --- | --- | --- | --- |
| 200g (7.05oz) | 160mm (6.30'') | 24mm (0.94'') | |
Power Specifications
Requires phantom power
Phantom voltage: 48 ± 4v
Did we get anything wrong on this page? Please let us know!