CAD Audio M37
Cardioid Condenser Microphone
The CAD M37 is a fixed Cardioid condenser, with a large-diaphragm capsule and excellent performance specifications. It was an early mic in CAD's "Global Audio" line, dating to 2002. Despite the line's nomenclature, the M37 was described as being "assembled and tested" in the US.
Along with the multipattern M39, the M37 was created by CAD as a low-cost product to be distributed and sold by Guitar Center. CAD's original intent for this product was to sell it not as a CAD product, but under the "Global Audio" brand name. However, the line was not a commercial success, and was dropped in favor of the CAD M177/M179.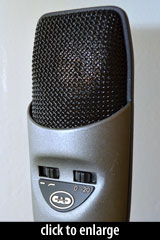 The mic's circuitry is believed to be the same as the CAD M177 — itself a fixed-Cardioid version of the M179. These mics use CAD's "Equitek" op-amp circuitry, which is characterized by high current draw (8mA) and very low self-noise. The M37 is rated at 11 dBA self-noise, an excellent figure for an inexpensive microphone, especially by 2002 standards.
The capsule, according to CAD, was a single-sided version of the Chinese-made capsule from the Equitek E-300. This differentiated it from the M177, which we believe was originally sold with a US-made Optema capsule before the entire mic was outsourced to Asian factories.
Two switches on the body enabled a high-pass filter and a -20dB (non-capacitative) pad. These features, and in fact the body design, were inherited from the M177 and M179.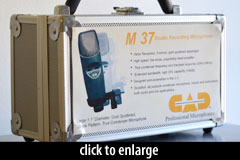 The M37 shipped with a ring mount in a compact foam-lined aluminum briefcase. The foam cutout provided room to leave the mount attached.
All M37 Photos by Scott Gentle
Permalink: CAD Audio M37
The mic was released in 2002.
Specifications
| Pickup Patterns | Pads & Filters |
| --- | --- |
| Cardioid (15.9 mV/Pa; 20 - 20,000 Hz) | |
Capsule Dimensions
Impedance
SPL/Noise
Diameter n/a
Diaphragm gauge: 3 microns
200 Ohms (Low)
Max SPL: 143 dB
Self-noise: 11.0 dB(A)
| Weight | Length | Max Diameter | Interface(s) |
| --- | --- | --- | --- |
| 425g (14.99oz) | 165mm (6.50'') | n/a | |
Power Specifications
Requires phantom power
Phantom voltage: 24–52v
Did we get anything wrong on this page? Please let us know!