Avantone Pro CK-40
Multi-Pattern Condenser Stereo Microphone
Avant's CK-40 is a dual-large-diaphragm stereo FET condenser that is capable of mid-side, Blumlein, or coincident XY-stereo recording.
Two dual-diaphragm, 35mm center-terminated capsules are mounted one atop the other; the top capsule rotates 270 degrees. Both capsules can be switched among cardioid, omni, or figure-of-8. This provides a variety of stereo miking options, including:
Single-point XY-stereo (with both capsules set to cardioid, offsetting the top capsule 90°)
Mid-side (with the front-facing capsule set to cardioid and the "side" capsule offset 90° and set to figure-8)
Blumlein (with both capsules set to figure-8, 90° opposed)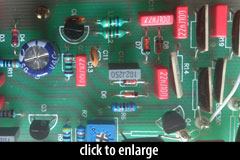 Although previously described here as a transformer-coupled mic, the schematic and circuit board photos that we've seen show the transformerless circuit (derived from the Schoeps circuit) that is common to many transformerless Chinese-made microphones.
The CK-40 includes a vinyl pouch for the mic, a suspension shockmount, a splitter box (5-pin XLRF into two 3-pin XLRM), foam windscreen, a 30' 5-pin mic cable, a padded flight case, and a 5-year warranty.
Electronic Musician

Over the course of the next few weeks, I ran the CK-40 through a variety of preamps… on drums, vocals, piano, electric bass, and acoustic and electric guitars. In every scenario, the CK-40 impressed me, often standing up next to reference mics costing a lot more.

In cardioid mode, using only one capsule, the CK-40 captured the depth and fullness, but also the presence and growl, of the electric instruments. Grand piano sounded particularly open and natural using the Blumlein technique, where both capsules are set to figure-8 at 90 degrees from each other.
StudioAuditions

…I propped it on a small stand at a kind of a middling nowhere — a fews rows back, to the side of the center aisle. Not really in the sweet spot of the PA, not really close to the stage, just planted in the midst, sure to get the evening as it happened. I set the capsules to their figure-8 patterns and rotated the top capsule 90 degrees. The results were beyond stunning. You couldn't tell there was a PA — the clarity of the singers and guitars was searing… When the music welled up, it filled every pore—real smooth, liquid-sounding. It sounded like a multi-track production.
The mic was announced at Winter NAMM 2007, and began shipping mid-year.
The Avantone Pro CK-40 is also known as: CK40.
The mic was released in 2007.
Specifications
Pickup Patterns
Pads & Filters
Cardioid (10 mV/Pa; 20 - 20,000 Hz)
X/Y Stereo (10 mV/Pa; 20 - 20,000 Hz)
Mid-Side Stereo (10 mV/Pa; 20 - 20,000 Hz)
Blumlein (10 mV/Pa; 20 - 20,000 Hz)


Pad: -10dB (Via Switch)
Filter: HPF: -6dB/octave @ 80Hz (Via Switch)
Capsule Dimensions
Impedance
SPL/Noise
Capsule diameter: 35mm

200 Ohms (Low)
Max SPL: 147 dB
Self-noise: 17.0 dB(A)
| Weight | Length | Max Diameter | Interface(s) |
| --- | --- | --- | --- |
| 950g (33.51oz) | 276mm (10.87'') | 49mm (1.93'') | |
Power Specifications
Requires phantom power
Phantom voltage: 48v
Did we get anything wrong on this page? Please let us know!