Audio-Technica AT4050
Multi-Pattern Condenser Microphone
The AT4050 is a multipattern FET condenser microphone with a transformerless output circuit.
The condenser capsule is a center-terminated, externally-biased design. The membrane is made of 2-micron material and has an active diameter of 21.4mm.
The AT4050 capsule appears to be identical to the AT4047MP capsule, although in the AT4047MP the capsule is partially surrounded by a perforated metal frame.
A switch on the microphone body provides access to three polar patterns: cardioid, omni, bidirectional.
Additional switches enable a pad (-10dB) and a high-pass filter (-12dB/octave @ 80Hz).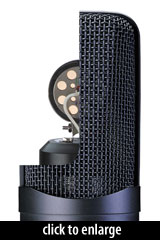 The large-diaphragm capsule is an externally-biased, dual-diaphragm design. The diaphragms are covered by a nickel-plated brass baffle said to provide stability and sensitivity. This baffle also acts as a passive equalizer, altering the frequency response of the microphone.

The mic ships with a shockmount, a "dust cover," and a storage/carrying case.
SoundOnSound, 1996

When the AT4050 is set to cardioid mode… it produces a very warm, silky sound, but with less top-end shimmer than the AT4033. Switching to omni or figure-of-eight seemed to produce a slightly more transparent sound that matched that of the AT4033 more closely.
Electronic Musician, 2006
I was very impressed with the AT4050 and would happily use this mic for final vocal tracks. Though a touch sibilant at times, Audio-Technica's condenser was well balanced tonally, exhibiting nice presence and loads of detail. The AT4050 also did a very good job in various pickup modes on two different violinists, never sounding too bright or scratchy.
matthew mcglynn, RecordingHacks.com

I would not hesitate to use the AT4050's above my drums. I think they do an excellent job of capturing a lively, unhyped picture of the full drum kit.
Permalink: Audio-Technica AT4050
Specifications
Frequency Response - Omnidirectional

Click Graph to Compare!
Frequency Response - Cardioid

Click Graph to Compare!
Frequency Response - Bidirectional

Click Graph to Compare!
Pickup Patterns
Pads & Filters
Omnidirectional (15.8 mV/Pa; 20-18,000 Hz)
Cardioid (15.8 mV/Pa; 20-18,000 Hz)
Bidirectional (15.8 mV/Pa; 20-18,000 Hz)


Pad: -10dB (Via Switch)
Filter: HPF: -12dB/octave @ 80Hz (Via Switch)
Capsule Dimensions
Impedance
SPL/Noise
Diaphragm diameter: 21.4mm
Diaphragm gauge: 2 microns
100 Ohms (Low)
Max SPL: 159 dB
Self-noise: 17.0 dB(A)
| Weight | Length | Max Diameter | Interface(s) |
| --- | --- | --- | --- |
| 510g (17.99oz) | 188mm (7.40'') | 53mm (2.09'') | |
Power Specifications
Requires phantom power
Phantom voltage: 48v
Did we get anything wrong on this page? Please let us know!