Apex Electronics 430
Cardioid Condenser Microphone
The Apex 420 and 430 are large-diaphragm condensers with transformer-coupled circuits. They differ only in that the 420 offered a Cardioid/Omni switch, while the 430 has a fixed Cardioid polar pattern.
Note that the cutsheet for the Apex 420 and 430, dated 2004, states that only the model 420 has a switchable high-pass filter. But every sample 430 we have seen also includes this option, presumably because it cost them less to use the same circuit boards on both models.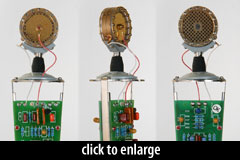 The circuit is nearly identical to that of the MXL 2001; the sole visible differences are that the 420/430 PCB has a pushbutton switch and one additional capacitor. These two parts comprise a switchable high-pass filter.
Early versions of the Nady SCM-900 used a circuit board pair identical to the Apex 430.
The Apex 430 that we've seen had a 2SK30A JFET and a polystyrene input coupling capacitor. These are seen infrequently in newer Chinese-made microphones, which almost universally use the 2SK170 JFET and ceramic coupling capacitors.
The mic has no DC circuitry. Because the audio circuit consumes nearly 13VDC, just ~34VDC is available to polarize the capsule.
The Apex 430 shipped with an elastic shockmount.
Permalink: Apex Electronics 430
Specifications
| Pickup Patterns | Pads & Filters |
| --- | --- |
| Cardioid (15 mV/Pa; 20 - 20,000 Hz) | Filter: HPF: -6dB/octave @ 100 Hz (Via Switch) |
Capsule Dimensions
Impedance
SPL/Noise
Diaphragm diameter: 26mm
Capsule diameter: 32mm

n/a
Max SPL: 130 dB

| Weight | Length | Max Diameter | Interface(s) |
| --- | --- | --- | --- |
| 490g (17.28oz) | 192mm (7.56'') | 52mm (2.05'') | |
Power Specifications
Requires phantom power
Phantom voltage: 48±4v
Did we get anything wrong on this page? Please let us know!