AKG Acoustics D 5
Supercardioid Dynamic Microphone
AKG's D5 is a handheld dynamic vocal microphone designed for stage use. The specific design goals included the reduction of handling noise and the reduction or elimination of feedback.
The goal of increasing gain-before-feedback is met in part through the use of a supercardioid pickup pattern, which reduces the mic's sensitivity to off-axis sounds.
Handling noise is reduced through the use of a shockmounted transducer assembly.
The D5 shares a capsule design with AKG's D7. The company's name for the dynamic diaphragm in both mics is "Laminated-Varimotion;" it employs a laminated diaphragm that is thicker in the center than at the edges. The use of varying thicknesses in a transducer diaphragm is not new, nor (as far as we can tell) covered by AKG's patent on this capsule. Rather, the patent covers the manufacturing process that yields a varying-thickness membrane at low cost.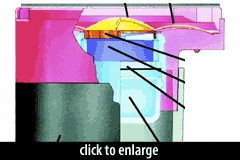 Patent #6,185,809

A method of manufacturing a diaphragm for an electroacoustic transducer which … has portions with different thicknesses made from a thermoplastically deformable material having a constant thickness, wherein, in a first work step, that portion of the diaphragm material which is to have the greater thickness in the finished diaphragm, is held by an inner positioning device, while the remaining area of the diaphragm is additionally held by an outer positioning device, and the remaining area of the diaphragm is pulled or stretched with the influence of tension and heat to reduce the thickness thereof. In a second workstep, the entire diaphragm is thermoplastically stamped in a mold.
Six versions of the D 5 are available:
D 5: for standard applications
D 5 S: with on/off switch
D 5 WL 1: D 5 microphone element with threaded connection for use with AKG wireless systems.
D 5 C: with cardioid (as opposed to supercardioid) pattern
D 5 CS: with cardioid pattern and on/off switch
D 5 LX: with hum cancelling coil for electromagnetic interference
The mic ships in a soft pouch and includes a mic clip (AKG p/n SA 51).
MIX, 2008

…about the only way I could create feedback was to point the capsule directly into the throat of the monitor horn.
ProAudioReview, 2008

it was easy to see that this microphone is a winner. Compared to some industry standards, I found the handling noise to be lower and less obtrusive… The tonal balance reminded me a bit of the beyerdynamic M 88 TG… The D5 also stood up rather nicely to an Audix OM3 and the venerable Shure SM58.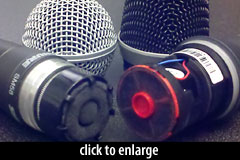 Pictured side-by-side with the SM58, it becomes evident that the D5's moving-coil cartridge is slightly larger in diameter than the SM58's.
Photo credit: Randy Coppinger
The AKG Acoustics D 5 is also known as: D5, D5S, D 5 S, D5LX, D5 LX, D5C, D5 C, D5CS, D5 CS.
The mic was released in 2007.
Specifications
Frequency Response - Supercardioid

Click Graph to Compare!
| Pickup Patterns | Pads & Filters |
| --- | --- |
| Supercardioid (2.6 mV/Pa; 70 - 20,000 Hz) | |
Coil Diameter
Impedance
SPL/Noise
n/a
600 Ohms (Low)
Max SPL: 156 dB
Self-noise: 18.0 dB(A)
| Weight | Length | Max Diameter | Interface(s) |
| --- | --- | --- | --- |
| 340g (11.99oz) | 185mm (7.28'') | 52mm (2.05'') | |
Did we get anything wrong on this page? Please let us know!