How to use the microphone database
Searching for microphone info? Here are three ways to do it, and below, a visual guide to the 500+ mic profile pages in the database.
Search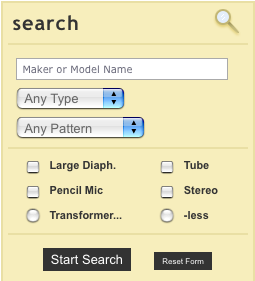 At the top right corner of every page in the mic database you'll find a search form. From there you can search by manufacturer name, microphone model number or name, pickup pattern, microphone type, and a handful of the most-useful criteria.
To give a few examples, this is an easy way to list:
Transformerless condensers
Tube SDCs
hypercardioid dynamics
multipattern LDCs
All mics by BLUE (or MXL, Shure, Neumann, etc)
The results page is a large, sortable grid that gives a summary of each matching microphone. Search results can be saved or shared.
Browse by Tag
Most mics in the system have been tagged with all their relevant attributes — everything from basic transducer type (condenser, dynamic, ribbon), to operational characteristics (active ribbon, transformerless), to capsule or tube model (6j1, 5840, k67).
Because every mic is tagged, this tool makes it easy to jump from one mic to another that shares characteristics.
Browse by Maker

The main page contains an alphabetical listing of microphone makers; these link to profile pages for the maker, with a list of all the mics we've encountered thus far.
The Payoff
At the end of any of these processes, you'll find a microphone profile page. We've collected the best info we can find about every mic in the system. Here's a quick visual guide.