---
Tuesday, March 19th, 2013 | by matthew mcglynn
The best mic mod platform in history just died. RIP.
The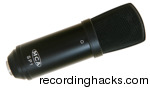 MCA SP1 is a $50 condenser mic based on MXL's version of the Schoeps transformerless circuit. The circuit design is capable of greatness; it is very well understood, and easy to improve. Numerous technicians have offered commercial modifications to this mic over the years, and today you can buy a mod kit for the SP-1 — a set of handpicked replacement components that transforms the mic into an exceptional studio tool. [Full disclosure: the kit was my idea.]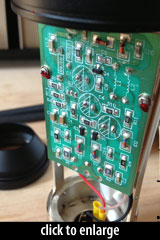 But the days of modding new SP1s are over. Marshall Electronics has apparently swapped the venerable "V57" circuit board set for a single surface-mount PCB. While it is technically possible to modify an SMT board, it is not worth the effort and risk of drilling out all the components you'd want to swap. For example, the mod kit referenced above changes 21 different components.
For years, I have been recommending that would-be DIYers buy the ~$50 SP1 for modding. But now there is a distinct risk of getting an SMT mic that you'd have to return. I can't recommend buying SP1s new any longer. Instead, pick up an older SP1 on Ebay. Consider the following mics equally desirable, for they all use the V57 PCB set: MXL 2006, MXL V63M, MXL V250. But ask the seller to send a photo of the circuit board first, just to be sure.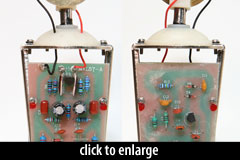 See the original V57 PCBs at right. This is what you want to see in your SP1 if your intention is to modify it.
If the Ebay route doesn't work, I recommend buying an

MXL 990 instead. The MXL 990 uses the same circuit and capsule as the SP1, and is actually easier to modify. (And yes, there is a mod kit for this one too.)
Update! May, 2014

We have introduced PCB replacement kits for the MXL 990, MCA SP-1, MXL 2006, MXL 550, MXL 910, MXL V63M, and many more. Visit our DIY store: https://microphone-parts.com/pages/mic-mods#mxl
[SMT SP1 PCB photo credit: David Hamon]
Posted in DIY, Microphones | 15 Comments »
---
---
---