---
Wednesday, July 28th, 2010 | by matthew mcglynn
Nathan Moore is making history.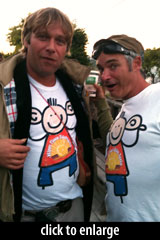 His "Hippy Fiasco Rides Again" tour of northern California was organized within about 36 hours, via iPhone and old-fashioned hotel-room telephone, hosted by fans and friends in towns from Chico to Santa Cruz. Nathan and his tour manager, Chad Galactic, are on a mission to not only recoup expenses from a festival gig that didn't turn out as expected, but to establish a new standard for "totally fan-driven" touring.
Here's the official tour kickoff video. "We've got Petaluma." Indeed.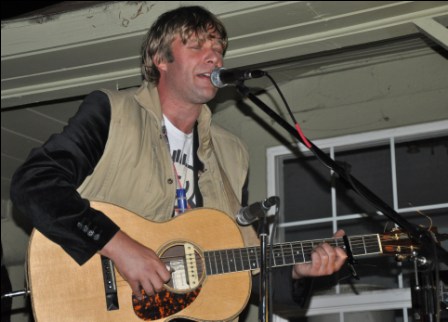 Photo credit: Greg Keidan
I'm just home from the Sebastopol show, an intimate backyard concert with a bunch of neighbors I'd never met, all of whom came together to support Nathan's latest venture. It was a casual show, completely appropriate for the venue. Nathan asked, "When do you think we should start?" Chad answered, "After this cigarette." And so it goes.
Upcoming dates:
Thursday, July 29: McNears, 21 Petaluma Blvd N, Petaluma CA 8:00
Friday, July 30: Connecticut Yankee, San Francisco CA, 10:00 $10
Sunday, August 1: A semi private party at the Compound in Oakland, call hot line for details, Doors 4:00, Music 6:00, $10 Donation.
Monday, August 2: TBA, Santa Cruz
Fans of ThaMuseMeant: Nathan is taking requests! Here he is performing one of my favorite TMM songs, Never Settle For Less. (See also this tour of Frogville Planet.)
Posted in News, Video | No Comments »
---
---
---