Shure KSM9
Multi-Pattern Condenser Microphone
Shure's KSM9 is a stage condenser in a traditional handheld form factor. It is intended for vocal use.
The mic has a dual-diaphragm 19.8mm OD electret condenser capsule, with diaphragms mounted 3.7mm apart. The output of these capsules is manipulated electronically to support two pickup patterns, cardioid and supercardioid.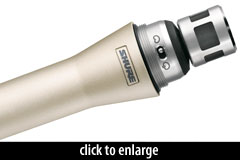 Shure

Both elements face forward and are contained within a single housing. The front element is acoustically tuned "half-way" between cardioid and supercardioid.

Via a double-pole switch, the rear element is connected in parallel to the front element. When the rear element is connected to have the same polarity as the front element, the resultant pattern is cardioid. When the rear element is connected to have the opposite polarity as the front element, the resultant pattern is supercardioid. Using this approach, the sensitivities of both patterns are nearly identical.

Compared to a single element directional microphone, this two element design also lessens proximity effect, handling noise, and wind noise.
The capsule in the KSM9 is tuned to produce the strongest rear rejection at a distance of 6 feet, which is a typical distance between the mic on stage and a floor monitor.
The mic's circuit uses surface-mount components, and was laboriously redesigned to optimize it for the lowest possible self-noise. The circuit includes "significant" RF/EMI filtering, according to Shure.
The KSM9 is available in two colors:
KSM9/CG - Charcoal Black
KSM9/SL - Champagne
Both are built with a cast aluminum handle.
It includes a mic clip (Shure p/n A25E) and an aluminum carrying case (Shure p/n A9SC).
Available replacement parts are listed in the User's Guide (see sidebar link).
Pro Audio Review, 2006

I have been amazed at the smoothness across the frequency spectrum and "smooth" is the best way to describe this mic…

The switchable pattern is very useful for all types of vocalists in every situation. In the cardioid pattern the KSM9 performs very well and airy when having a vocalist on a set of in-ear monitors or with a lower stage volume. In the supercardioid pattern the mic response is beautifully with superb off-axis rejection. There is little difference in the frequency response and character of the mic in either pickup pattern…

This mic sounds like what you have always wanted a live mic to sound like. That is to say you have the brilliant clarity of a large diaphragm studio microphone in a durable live application. It is crisp without sounding too harsh, but warm and natural for a true reproduction of the human voice.
Performing Musician

In comparison with some less costly, back-electret, live vocal mics I had to hand for test purposes, the KSM9 consistently delivered the smoothest and most musical result… The impression is of a studio-quality mic designed for live performance… By way of output, the levels of the KSM9 and my test mics were pretty evenly matched, and rejection of feedback was nominally similar too.

The Rode M3 we reviewed recently is about a fifth of the price and sounds similarly studio-like, but it isn't nearly as good at rejecting popping…

Judged on a combination of sound, resistance to feedback and popping, and build quality, the KSM9 is the best live vocal capacitor microphone I've had the pleasure of using to date, but there are viable alternatives snapping at its heels for considerably less money, and unless you have a very high-quality sound system, you may not hear a great deal of difference. However, for the professional performer who simply must have the best, the KSM9 ticks all the right boxes.
The Shure KSM9 is also known as: KSM-9.
The mic was released in 2006.
Specifications
Frequency Response - Cardioid

Click Graph to Compare!
Frequency Response - Supercardioid

Click Graph to Compare!
Pickup Patterns
Pads & Filters
Cardioid (2.8 mV/Pa; 50 - 20,000 Hz)
Supercardioid (2.8 mV/Pa; 50 - 20,000 Hz)

Capsule Dimensions
Impedance
SPL/Noise
Capsule diameter: 19.8mm

150 Ohms (Low)
Max SPL: 152 dB
Self-noise: 22.0 dB(A)
| Weight | Length | Max Diameter | Interface(s) |
| --- | --- | --- | --- |
| 300g (10.58oz) | 191mm (7.52'') | 49mm (1.93'') | |
Power Specifications
Requires phantom power
Phantom voltage: 11-48v
Did we get anything wrong on this page? Please let us know!