Lewitt Audio MTP 940 CM
Multi-Pattern Condenser Microphone
The MTP 940 CM is a unique stage condenser microphone, and is the flagship of Lewitt Audio's MTP line of performance microphones.
Much like Lewitt's LCT line of premium studio condensers, the MTP 940 CM provides multiple pad and filter options, as well as multipattern capability. It is one of only three other multipattern handheld condensers we've seen (the others being the Shure KSM9/KSM9HS and the Sennheiser e965; see links in sidebar).
Unlike the KSM9 series microphones, the 940CM has a true condenser capsule; the bias voltage is applied externally, rather than relying on "prepolarized" diaphragms.
Although described as a large diaphragm design, it is the outside diameter, not the diaphragm diameter, that measures ~25cm. This capsule was developed for the 940CM; it is not currently used in any other Lewitt Audio microphones.
The mic's self-noise is remarkably low at 9dBA (measured via the capacitor substitution method). This is less than half the rating for either the Shure or Sennheiser mics (21–22 dBA). According to Lewitt, the reduction in self-noise is a benefit of a simplified impedance circuit, with fewer components in the signal path.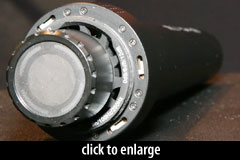 Removing the metal grille reveals three miniature three-position slide switches:
Pattern: Cardioid, Wide Cardioid, Supercardioid
Pad: 0dB, -6dB, -12dB
Filter: flat, low rolloff (-6dB/octave @ 250Hz), bass cut (-12dB/octave @ 100Hz)
Because these switches cannot be seen when the mic is in use, their settings are indicated by tiny LED lights on the body of the microphone.
The mic is built into a die-cast metal body intended to withstand long-term stage use.
The mic was introduced at NAMM in January, 2013.
Permalink: Lewitt Audio MTP-940-CM
The mic was released in 2013.
Specifications
Pickup Patterns
Pads & Filters
Cardioid (10 mV/Pa; 20 - 20,000 Hz)
Supercardioid (10 mV/Pa; 20 - 20,000 Hz)
Wide Cardioid (10 mV/Pa; 20 - 20,000 Hz)


Pad: -6dB (Via Switch)
Pad: -12dB (Via Switch)
Filter: HPF: -12dB/octave @ 100Hz (Via Switch)
Filter: HPF: -6dB/octave @ 250Hz (Via Switch)
Capsule Dimensions
Impedance
SPL/Noise
Capsule diameter: 25.4mm

150 Ohms (Low)
Max SPL: 156 dB
Self-noise: 9.0 dB(A)
| Weight | Length | Max Diameter | Interface(s) |
| --- | --- | --- | --- |
| 332g (11.71oz) | 183mm (7.20'') | n/a | |
Power Specifications
Requires phantom power
Phantom voltage: 48 ± 4v
Did we get anything wrong on this page? Please let us know!