Schoeps Mikrofone M 221 B
Pencil Tube Condenser Microphone
The M221B was a second-generation miniature tube microphone, and was one of the first to offer a series of interchangeable capsules for specific recording applications. It was a revision to the short-lived M221A, and differed primarily in the way capsules were attached to the microphone body:
The M221A had female threads on the microphone body.
The M221B and all subsequent versions had male threads on the microphone body.
The mic used a tube amplifier circuit based on the Telefunken AC701 subminiature triode.
Schoeps, 1956

By means of a very effective feedback circuit, its working point is stabilized, and the [slightly] non-linear distortion factor of the amplifier is held down to the lowest frequencies of the range.
The transformer-coupled output was set at the factory for either 200Ω output impedance (indicated by a blue dot on the microphone body), or 50Ω (indicated by a red dot). The 50-Ohm version has 6dB lower output.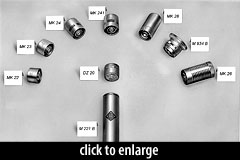 At least seven capsules were offered; we will add details of these as opportunities arise. The capsule polarization voltage in all cases was 120V, which is higher than used by the Schoeps "Colette" series of capsules (such as found on the CMC-5, CMC-6, and the M222 tube head-amp). Therefore, although the capsule threading on the M 221 B is the same as on the Colette microphones, the contact terminals differ; capsules from the Colette series are not compatible with the M 221 B, even if some of the names are the same.
M 221 B capsules include:
MK 22
MK 23
MK 24
MK 241
MK 28
M 934 B - Omni/Cardioid, mechanically switched, end-address
MK 26 - Omni/Cardioid/Figure-8, mechanically switched, side-address
This model was manufactured until 1985, and sold under a variety of names and logos, including Telefunken, Schoeps, and Siemens.
Permalink: Schoeps Mikrofone M-221-B
The mic was released in 1956.
Specifications
| Pickup Patterns | Pads & Filters |
| --- | --- |
| | |
| Capsule Dimensions | Impedance | SPL/Noise |
| --- | --- | --- |
| n/a | 200 Ohms (Low) | |
| Weight | Length | Max Diameter | Interface(s) |
| --- | --- | --- | --- |
| 83g (2.93oz) | 107mm (4.21'') | 20mm (0.79'') | |
Power Specifications
Includes tube power supply
Did we get anything wrong on this page? Please let us know!