SE Electronics Z5600a
Multi-Pattern Tube Condenser Microphone
The Z5600a is the second generation of sE's previously top-of-the-line Z5600 mic. Both are 9-pattern large-diaphragm tube mics.
What is the difference between the z5600 and z5600a?
The circuit board was redesigned, improving the layout, for the 'a' revision. The mic body was changed as well; the new version is powder-coated as a step toward damping resonance.
The tube is either a 12AT7/ECC81, or a 12AX7/ECC83. MusicTech reported seeing a 12AX7; Electronic Musician reported a 12AT7. It seems possible that sE changed the tube without again revising the mic's model number. It is socketed, rather than hard-wired to the circuit board; users of various audio forums have reported success with tube upgrades to 6072 variants.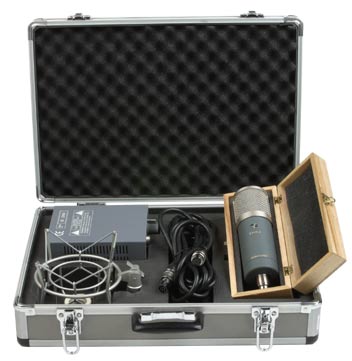 Electronic Musician

The Z 5600 A's wide body holds a 12AT7 tube, found in many budget tube devices. Whereas most of those use an underpowered tube in the circuit to generate a little distortion (that can then be attributed to the tube), the Z 5600 A uses the 12AT7 in a traditional high-voltage circuit…

The Z 5600 A was awesome when I used it to mic stringed instruments, especially those with metal strings.
MusicTech, 2004-12

In cardioid mode, the slightly spiky high frequencies of the original 5600 have been tamed and, overall, the sound is more obviously "valvey" than both the old Z5600 and SE Gemini.
The SE Electronics Z5600a is also known as: Z-5600a.
The mic was released in 2004.
Specifications
Frequency Response - Omnidirectional

Click Graph to Compare!
Frequency Response - Cardioid

Click Graph to Compare!
Frequency Response - Bidirectional

Click Graph to Compare!
Pickup Patterns
Pads & Filters
Omnidirectional (14.1 mV/Pa; 20 - 20,000 Hz)
Cardioid (14.1 mV/Pa; 20 - 20,000 Hz)
Bidirectional (14.1 mV/Pa; 20 - 20,000 Hz)

Capsule Dimensions
Impedance
SPL/Noise
Diaphragm diameter: 27mm

200 Ohms (Low)
Max SPL: 130 dB
Self-noise: 16.0 dB(A)
| Weight | Length | Max Diameter | Interface(s) |
| --- | --- | --- | --- |
| 680g (23.99oz) | 222mm (8.74'') | 62mm (2.44'') | |
Power Specifications
Includes tube power supply
Did we get anything wrong on this page? Please let us know!