Royer Labs SF-24V
Multi-Pattern Tube Ribbon Stereo Microphone
The SF-24V is a tube version of the SF-24 stereo ribbon microphone. Whereas the SF-24 uses transformerless solid-state electronics for impedance conversion, the SF-24V uses a pair of tube amplifier circuits, and a pair of output transformers.
The tubes are NOS 5840W, configured as cathode followers. They are burned in at the Royer factory prior to shipment. The output circuits are transformer-coupled, using Jensen toroid transformers.
Royer claims the SF-24V has greater headroom and faster response than its FET sibling, the SF-24. Due to the tube amplifiers, the SF-24V has sufficient output for any mic preamp (unlike some passive ribbons that require high-gain pre's).
Two ribbon motors are mounted end-to-end; one is offset by 90° to provide single-point XY-stereo or Blumlein miking.
John Jennings

The electronics are very close to those in the R-122V… The mic's response is dead flat (± 1 dB) and it starts its roll-off a few kHz past where R-series mics roll off. It's … a little less forward in the mids then an R-series mic. It's not as tough as an R-series ribbon, so it likes careful handling and no loud guitars…
The SF-24V ships with a shock mount, a storage "sock," and a handcrafted wooden case carved from a solid block of Padauk wood. As with all Royer microphones, the SF-24V comes with an unconditional lifetime warranty.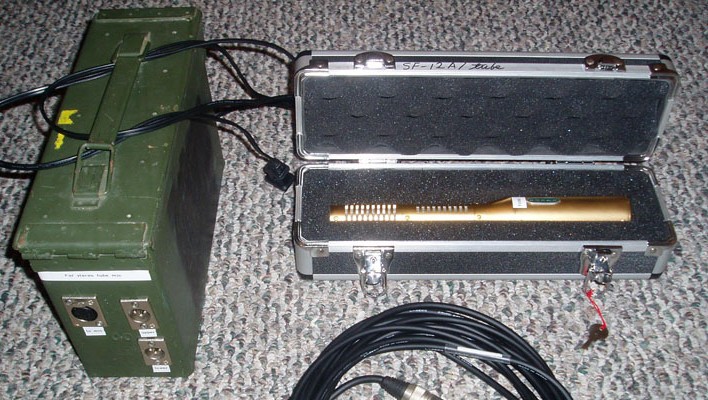 David Royer began prototyping this mic several years ago; the Royer site shows photos of early prototypes, then called the SF-12A, dated January 2005.
MIX, 2009

In a live room with a band, the mic captured distance detail like a champ. The top is open, with musical response from top to bottom. Cymbals, drum transients, guitars, vocals and more come through with that gut feeling like you're in the room. Up close on amps, acoustic guitars and drums, it can stand up to high SPLs and delivers tight, crisp transients with plenty of punch…

Once you hear the SF-24V, the auditory experience will justify the cost.
SoundOnSound, 2010

Stereo imaging is superb: clear, accurate and immensely detailed. Off-axis coloration is almost non-existent, mostly because the level drops so quickly and dramatically into the deep side nulls. The front and rear pickup sounds identical.
The SF-24V was announced at Winter NAMM 2009, was scheduled for release by mid-April, and actually began shipping around July 1, 2009. According to a press release issued to NAMM attendees, "Royer execs said they consider it the first commercially produced vacuum tube stereo ribbon microphone."
The Royer Labs SF-24V is also known as: SF24V, SF-12A.
The mic was released in 2009.
Specifications
Frequency Response - Blumlein

Click Graph to Compare!
Pickup Patterns
Pads & Filters
Bidirectional (12.6 mV/Pa; 40 - 15,000 Hz)
Blumlein (12.6 mV/Pa; 40 - 15,000 Hz)

Ribbon Construction
Impedance
SPL/Noise
Two 1.8 micron, 1/16''x1.25'' aluminum ribbons
200 Ohms (Low)
Max SPL: 130 dB
Self-noise: 18.0 dB(A)
| Weight | Length | Max Diameter | Interface(s) |
| --- | --- | --- | --- |
| 583g (20.56oz) | 270mm (10.63'') | 39mm (1.54'') | |
Power Specifications
Includes tube power supply
Did we get anything wrong on this page? Please let us know!