Roswell Pro Audio Delphos
Multi-Pattern Condenser Microphone
The Roswell Delphos is a large-diaphragm studio condenser known for its un-hyped, rich and vintage tone. It has a switchable pad (-10dB) and pattern (True Cardioid/Omni). It uses a highly optimized transformerless circuit.
The Delphos circuit boards are manufactured and populated in the US, using premium quality components. The JFET and bipolar transistors are vintage, "New Old Stock" parts. Each JFET is selected and manually biased using a proprietary process to ensure maximum headroom and minimum distortion.
Each Delphos microphone is individually sweep-tested and tuned after assembly. Each microphone is tuned by hand to meet a specific response curve, providing a very high degree of consistency across microphones. Each mic is compared to a "golden master" unit during the tuning process.
The capsule is a selected 34mm diameter K67/K87 type. Unlike most K67 style capsules, the Delphos capsule has a smooth, unexaggerated presence boost in the 8–12kHz range.
The mic has two polar patterns, switchable on the front of the mic body: Omnidirectional and "True Cardioid," in which the capsule's rear diaphragm is disconnected from the circuit entirely. This gives the Delphos higher sensitivity in Cardioid, by 4-5dB.
A second switch enables a 10dB capacitive pad.
Like all Roswell products, the Delphos is subjected to extensive quality control tests and inspections. Each microphone includes a signed and dated card that outlines the QC procedure.
The Delphos' brass body is finished in a 4-stage enamel that is heat treated for durability. The color is a dark blue metallic that is also found in the Porsche automotive catalog.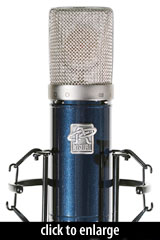 Newly introduced with the Delphos is a custom screw-on shockmount, called the "Cutaway™," designed to facilitate easy positioning close to a sound source.
The mic ships with its shockmount and in a small flightcase, in custom due-cut foam.
The Delphos was introduced at the AES show in Los Angeles, CA, in September 2016.
San Diego Troubador

Considering that this mic can handle any and every task placed before it… not just ably but admirably, brings me to the simple conclusion that if you could only afford to own just one mic… the Roswell Audio Delphos is that mic.
The Delphos was replaced in the Roswell Pro Audio product line in early 2019, with a mic called the Delphos II.
Permalink: Roswell Pro Audio Delphos
The mic was released in 2016.
Specifications
Pickup Patterns
Pads & Filters
Omnidirectional (28 mV/Pa; 20 - 16,000 Hz)
Cardioid (40 mV/Pa; 20 - 16,000 Hz)

Capsule Dimensions
Impedance
SPL/Noise
Diaphragm diameter: 27mm
Capsule diameter: 34mm
Diaphragm gauge: 3 microns
200 Ohms (Low)
Self-noise: 12.0 dB(A)
| Weight | Length | Max Diameter | Interface(s) |
| --- | --- | --- | --- |
| 375g (13.23oz) | 185mm (7.28'') | n/a | |
Power Specifications
Requires phantom power
Phantom voltage: 48v
Did we get anything wrong on this page? Please let us know!