Placid Audio Carbonphone
Cardioid Dynamic Microphone
The Placid Audio Carbonphone is a carbon-capsule "effect" microphone.
The Carbonphone is Placid Audio's take on a carbon microphone, which is a very early microphone design — Thomas Edison obtained a patent for the technology in 1877, though it is generally agreed that British-American inventor David Edward Hughes invented the technology. (Apparently, Hughes also coined the term "microphone"!) Carbon microphones fell out of favor in music recording as microphone technology evolved, so the technology was relegated to non-musical communication devices. For instance, a carbon microphone was the central audio component of telephones up until the 1980's, and they were widely used in CB radios. However, even their industrial and household usage diminished as other microphone technologies became cheaper and more widespread. Recently, carbon microphones have experienced a resurgence in music due to their unique vintage character: carbon is naturally distorted, bandwidth limited, and sonically lo-fi.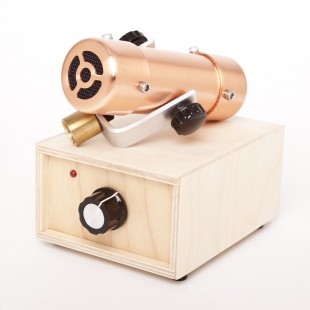 Carbon microphones operate on a different principle than moving-coil (aka "dynamic"), ribbon, or condenser microphones. In a carbon mic, a current is applied to granules of carbon. These granules vibrate with sound pressure and their resistance creates an electrical representation of the sound signal. A key characteristic of carbon microphones is that they are not very sensitive, especially compared to dynamic and condenser microphones. Therefore, they need comparatively loud signals to activate the carbon granules and produce sound. Close-up vocal work and/or high SPLs yield the best results.
The carbon-granule capsule in the Carbonphone has an outside diameter of 1.25 inches.
Due to the nature of the underlying technology, carbon microphones have a distinct sonic character, so the Carbonphone fits in right alongside Placid Audio's other character mics, such as the Copperphone and Resonator series. In fact, Placid Audio describes the Carbonphone as "our most colorful and ambitious character microphone."
The carbon technology and its native characteristics are the core of the Carbonphone sound, though creator Mark Pirro has taken the concept further. For instance, unlike vintage — indeed, antique — carbon microphones, the Carbonphone employs a military-spec carbon transducer and has a balanced output thanks to a Hammond transformer which is situated inline with an electronic filtering circuit. Pirro chose the components that comprise this circuit by ear, tuning it for use in more modern situations, such as the recording studio and stage.
The Carbonphone can also be connected to the Tone Box, a five-position variable filter housed in a wooden box. It also has a balanced XLR output. (Both the Carbonphone and the Tone Box use Neutrik XLR connectors.) The Tone Box's filters are designed for the Carbonphone to broaden its sonic palette — similar to a tone control on a guitar amplifier — but it can be used with any high output or condenser microphone.

The Tone Box provides necessary current to the Carbonphone, but can also provide +48v phantom power to any microphone that requires it. The Tone Box requires a standard 9v "wall wart" power supply, which is included.
Mark Pirro, Placid Audio

Since childhood, I've always been intrigued and captivated by the sound of the fuzzy static filled vocal transmissions from the moon landings and other military-type communications. Something about the raw texture imparted on the signal seemed to enhance my imagination and easily take me to another world.

When first brainstorming additional microphone ideas for Placid Audio, I wanted to bring to life that specific sonic character in a professional, easy to use microphone for artists and recording engineers. After doing a bit of research, I discovered that carbon microphone technology was the reason for such a compelling sound… it was in that moment the idea for the Carbonphone was born.
The Carbonphone, like all Placid Audio microphones, is built into a rugged, machined copper housing. It comes with the Tone Box, the Tone Box's power supply, and an adjustable aircraft aluminum mount. It has a lifetime warranty.
Permalink: Placid Audio Carbonphone
The mic was released in 2016.
Specifications
| Pickup Patterns | Pads & Filters |
| --- | --- |
| Cardioid (500 - 10,000 Hz) | |
| Coil Diameter | Impedance | SPL/Noise |
| --- | --- | --- |
| n/a | 600 Ohms (Low) | SPL n/a |
| Weight | Length | Max Diameter | Interface(s) |
| --- | --- | --- | --- |
| 454g (16.01oz) | 152mm (5.98'') | n/a | |
Power Specifications
Requires phantom power
Phantom voltage: 48v
Did we get anything wrong on this page? Please let us know!