Microtech Gefell M 300
Cardioid Pencil Condenser Microphone
The M300 is Gefell's small-diaphragm FET condenser, aka "pencil condenser." It provides a fixed cardioid pattern and compact size for ease of placement.
Frequency response is flat from 100Hz to 2kHz, then exhibits a gentle rise to +3dB around 10kHz. -3dB points are at 40Hz and ~18
Hz.
The mic's capsule, designated "M3," employs a 16mm Mylar diaphragm, coated with gold. The housing is ceramic rather than the more-typical metal; the advantage, derived from the company's work on test and measurement mics, is that ceramics have less susceptibility to change due to temperature.
SoundOnSound

In practice the M300 sounds fuller at the bottom than the KM184… At the high end both mics have a modest treble boost, and on paper the M300's appears the more severe, although this is not perceived to the same extent in practice… the M300 sounding slightly 'darker' and the KM184 being a little more 'sparkly' — although these purely subjective impressions are highly dependent on source material, naturally. I was also able to make a direct comparison with the much revered, but now discontinued, Neumann KM84 microphone, and my impression is that the M300 sounds similar, but with a little more presence and a shade less extreme high-frequency extension.
MIX

The M 300 oozes quality right out of the box.
The mic is available in a dark bronze finish, p/n 211101, and ships in a wooden case. Mic clips and suspension mounts are available separately.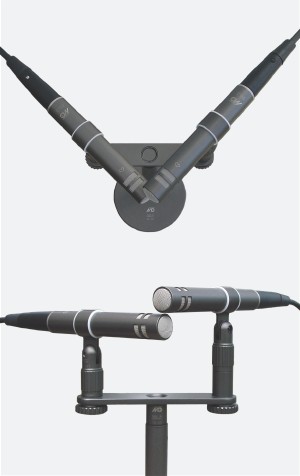 Some vendors sell matched pairs of the M300; unlike many microphone vendors, whose "matching" procedure does not necessarily produce mics with consistent response and imaging, Gefell provides pairs that have been tested for both on-axis and off-axis response and phasing while controlling for variations in temperature and barometric pressure. Selected pairs then go through an audition process. Sets are shipped in a wooden case with a double-mic mount (TD 93) capable of either XY or ORTF applications, as part number 211174 (MSRP €1595).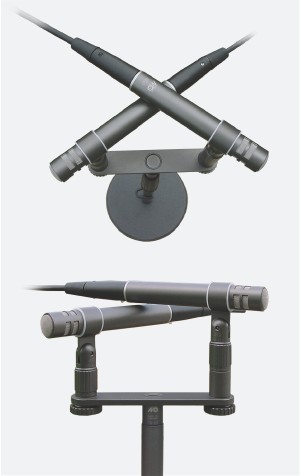 Electronic Musician, 2000

The M300 garnered consistently high praise in all our applications. The mic has a full, well-balanced sound with slightly boosted highs, mildly attenuated lows and low mids, and excellent dynamic response. These characteristics proved especially favorable on the acoustic guitar, where the mic presented a clean, balanced, and commanding sound that was distinctive for its depth and resonance…
The Microtech Gefell M 300 is also known as: M-300.
Specifications
Frequency Response - Cardioid

Click Graph to Compare!
| Pickup Patterns | Pads & Filters |
| --- | --- |
| Cardioid (12 mV/Pa; 40 - 18,000 Hz) | |
| Capsule Dimensions | Impedance | SPL/Noise |
| --- | --- | --- |
| Diaphragm diameter: 16mm | 100 Ohms (Low) | Max SPL: 147 dB |
| Weight | Length | Max Diameter | Interface(s) |
| --- | --- | --- | --- |
| 126g (4.44oz) | 130mm (5.12'') | 21mm (0.83'') | |
Power Specifications
Requires phantom power
Phantom voltage: 48v
Did we get anything wrong on this page? Please let us know!