Microtech Gefell M 295
Cardioid Pencil Condenser Microphone
The M295 is a cardioid FET condenser mic with a nickel diaphragm design borrowed from Gefell's line of measurement mics. It consists of the MV 200 microphone body (aka the SMS 2000) connected (permanently) to the M70 capsule head (pictured below).
It matches the M294 in every performance spec other than frequency response. The two capsules are constructed differently (although both provide cardioid pickup patterns), and the charging voltage differs: the M295 operates at 80V, whereas the M294 operates at 40V.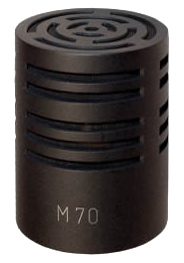 The capsule uses a 0.8-micron nickel diaphragm, a Teflon-coated backplate, and a ceramic housing. The backplate's coating prevents the thin diaphragm from "bottoming out" at high SPL. The ceramic housing retains its shape better than would a metal housing under temperature shifts. The nickel membrane is said to be less affected by moisture and contamination, and to have "low membrane distortion."
The diameter of the suspended portion of the membrane, according to MTG's Michael Militzer, is 16mm. Some early reviews and literature quote the capsule diameter of the M29x series of mics at 1'', which would qualify these as large-diaphragm microphones. The 1'' designation comes from these mics' origin in the test and measurement industry, where the stated diameter refers to the outside diameter of the entire capsule head. Note too that the M296 does use a large capsule, with a 22mm diaphragm.
The capsule head contains an integrated shockmount platform that serves to control the mic's cardioid pattern and to reflect off-axis sounds away from the diaphragm, helping to retain high-frequency detail that might otherwise be smeared by "modal interaction" and phase cancellation produced by reflected sounds.
Two recessed switches on the body of the microphone provide a -10dB preattenuation pad and an aggressive high-pass filter (-15dB @ 60Hz).
Gefell

The M925 is corrected for near and mid field recording, and is characterized with a virtually linear upper stratum with only a very slight presence-rise, while the low-frequency content is naturally attenuated to compensate for proximity-build. This makes the M295 particularly well suited for close mic?ing of solo instruments where the most natural rendering is desired.
The MV 200 preamp circuit is a low-noise, transformerless design that Gefell claims is linear from 5Hz-100kHz.
The M295 ships in a padded wooden box. Two finishes are available:
Satin nickel (p/n 211114)
matte black (p/n 211115)
A variety of mounts and accessories are available separately.
The Microtech Gefell M 295 is also known as: M295.
The mic was released in 2002.
Specifications
Frequency Response - Cardioid

Click Graph to Compare!
Pickup Patterns
Pads & Filters
Cardioid (17 mV/Pa; 40 - 18,000 Hz)


Pad: -10dB (Via Switch)
Filter: HPF: -15dB @ 60Hz (Via Switch)
Capsule Dimensions
Impedance
SPL/Noise
Diaphragm diameter: 16mm
Capsule diameter: 25mm
Diaphragm gauge: 0.8 microns
150 Ohms (Low)
Max SPL: 133 dB
Self-noise: 13.0 dB(A)
| Weight | Length | Max Diameter | Interface(s) |
| --- | --- | --- | --- |
| 160g (5.64oz) | 166mm (6.54'') | 25mm (0.98'') | |
Power Specifications
Requires phantom power
Phantom voltage: 48v
Did we get anything wrong on this page? Please let us know!