Mesanovic Microphones Model 1
Bidirectional Ribbon Microphone
The Model 1 is a passive ribbon microphone, handmade in Detroit. It is the inaugural microphone from Mesanovic Microphones.
The ribbon is made of 1.8-micron aluminum, with a length of ~52mm and width of 5.8mm. The ribbon motor design was developed by Mesanovic to have a very short front to back path length — this is the distance from the front of the ribbon, around any magnets or chassis parts, to the back side of the ribbon — which improves the high-frequency response of the microphone.
The output transformer has a 1:37 ratio, and is made in the US. It was selected by company founder Deni Mesanovic after extensive testing.
Deni Mesanovic

We wanted the Model 1 to provide the warmth and mid range detail of a classic ribbon microphone, extend the high end response, provide a powerful and defined low end, and keep the sound as open and natural as possible. We did this by only using two layers of mesh that separate the ribbon from the source. This minimal blast protection approach provides the Model 1 with a natural, open, and unobstructed sound. We did not want to use resonator plates to increase high frequency response because we found that they "closed" up the sound and took away from the natural and open sound we wanted to achieve. Instead, we made the front to back path length as short as possible while retaining the dimensions of our ribbon. The result is a natural, open, and smooth sounding ribbon with a fat bottom end and an extended high frequency response.
The published frequency-response graph shows the -3dB point of the Model 1 to be 7kHz.
The Model 1's body is made of brass, machined at the Mesanovic shop. It is plated with nickel, with a satin finish.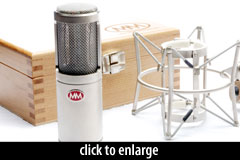 The mic ships in a velvet lined Alder wood case, with an elastic shockmount.
Matched stereo pairs are also available.
Additional specifications are forthcoming; we will update this profile as new information becomes available.
Permalink: Mesanovic Microphones Model-1
The mic was released in 2013.
Specifications
| Pickup Patterns | Pads & Filters |
| --- | --- |
| Bidirectional (3 mV/Pa; 20 - 7,000 Hz) | |
Ribbon Construction
Impedance
SPL/Noise
Length: 52mm
Width: 5.8mm
Gauge: 1.8 microns
n/a
| Weight | Length | Max Diameter | Interface(s) |
| --- | --- | --- | --- |
| 700g (24.69oz) | 159mm (6.26'') | 52mm (2.05'') | |
Did we get anything wrong on this page? Please let us know!