MXL V6
Cardioid Condenser Microphone
MXL's V6 was the second "Silicon Valve" series microphone, intended to emulate tube warmth in a FET condenser design. It is a fixed-cardioid, large-diaphragm model. Unlike most MXL mics, which are manufactured in MXL's plant in China, the V6 was designed and is manufactured in Marshall Electronics' southern-California facility.
It was discontinued in 2010 due to the lack of availability of some of the components.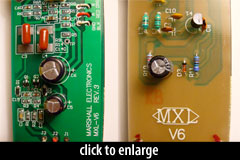 Although previously described in this space as a transformer-coupled design (due to the EQ Magazine statement below), the mic has never had a transformer. (Rather, the V6's Silicon-Valve sibling, the M3, had an output transformer.)
See also the "Rev 3" circuit board, pictured here. The circuit uses a combination of surface-mount and through-hole, discrete components.
[PCB photos: DJS~NJ]
EQ Magazine

The internal mic circuitry is designed to amplify the "musical" even-order harmonics, while subduing odd-order harmonics, which are responsible for harsh, edgy sound quality. Transformers on the output stage also help enhance the tube-like qualities in the mics [Ed. EQ's reviewer was incorrect; the mic had no transformer.]
The V6 ships with a "hard mount" stand adapter that attaches to the bottom of the microphone (p/n MXL-V6-H). Optional accessories include metal-mesh pop filters and suspension mounts (e.g. MXL-57 "high isolation shockmount," the MXL USM-001 "basket shockmount," and the MXL USM-002 "low profile shockmount."
EQ Magazine

The V6 and the V69 are clearly cut from the same cloth. Both have a round, warm midrange, with open, present top end. There's enough proximity effect to work with; the mics handle level well, so you can use them close and take advantage of proximity to fatten up the bottom end. As with the V69, I did find myself wishing for a lowcut filter on the V6 to tame the deep bass "thumpiness" that was revealed when monitoring through a subwoofer-equipped system.

…I enjoyed using the V6 for the same applications at which the V69 excelled. I liked it on male vocals, where it provides a full tone, with bright but smooth high end. The detailed, open top-end also worked well on steel-string acoustic guitars, delivering a thick sound with plenty of sparkle. Marshall is correct to characterize the mic as smooth sounding, with no "solid-state" harshness…

The V6 easily lives up to the claims made by Marshall Electronics. It's a big sounding mic, with plenty of open top-end, good dynamic response, low noise, and a warm tone.
Recording Magazine

I was not impressed with the V6 sound on overheads — it dulled the sound of the cymbals, and did not let the highs breathe as much as I like; however, when used as close mics on a brushed snare, toms,and a ride cymbal… the sound was so up close, warm and pleasant it was sublime.
Tape Op

This could easily be the best solid-state mic I've ever used on acoustic guitar.
The MXL V6 is also known as: V-6.
The mic was released in 2005.
Specifications
Frequency Response - Cardioid

Click Graph to Compare!
| Pickup Patterns | Pads & Filters |
| --- | --- |
| Cardioid (22 mV/Pa; 20 - 20,000 Hz) | |
Capsule Dimensions
Impedance
SPL/Noise
Diaphragm diameter: 25mm
Capsule diameter: 32mm
Diaphragm gauge: 6 microns
120 Ohms (Low)
Max SPL: 130 dB
Self-noise: 16.0 dB(A)
| Weight | Length | Max Diameter | Interface(s) |
| --- | --- | --- | --- |
| 522g (18.41oz) | 215mm (8.46'') | 47mm (1.85'') | |
Power Specifications
Requires phantom power
Phantom voltage: 48 ± 4v
Did we get anything wrong on this page? Please let us know!