TapeOp Issue #50/November, 2005 | by Dana Gumbiner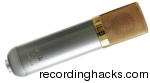 See specifications, reviews, & mods for the MXL V6
The MXL V6 is a large-diaphragm, solid-state condenser designed to emulate the characteristics of a tube mic — specifically, the MXL V69 (their top-of-the-line tube condenser). In keeping with the MXL tradition of providing solid, workhorse mics at unbelievably affordable price points, the V6 is a well-built, no-frills, great-sounding microphone that's manufactured in the USA and streets for $299.
The V6 apparently ships with a cherry wood box and a mic clip (my review unit came boxless). Most universal shockmounts should work well, and MXL offers one for $50. It's a classy-looking mic, vaguely resembling a Telefunken Ela M 251 in size and shape, with a gold grill and grayish body. The cardioid pattern is indicated on the front of the mic, along with V6 insignia, and that's it! No frills! Translation: fixed pattern, no pads, no low-cut, no other features. Just plug it in, turn on your phantom power, and go. I kind of liked that approach when testing this mic; it felt more immediate and also compelled me to focus more on placement, rather than compensating with EQ or pad switches.
This could easily be the best solid-state mic I've ever used on acoustic guitar.
I liked this mic on acoustic guitar a whole bunch. Close up to a finger-picked 12-string, it revealed a crisp, bright, high end and lots of detail for a nicely intimate sound — no EQ needed! I tested it with a nylon string as well and was very happy with results — plucky and smooth, with just enough low end. I ended up with a somewhat Nick Drake-ish tone. This could easily be the best solid-state mic I've ever used on acoustic guitar.
We also tried a pair as overheads, placed carefully for a wide stereo sound. The cardioid pattern is very wide and the resulting sound was big and open, if not a little bombastic. I liked it, but the group on this session opted for a tighter sound ultimately. I hope to use this mic again on a jazz session or maybe as a snare mic with a "quiet" drummer (oxymoron?). It seems pretty versatile in the percussion department.
With vocals, well, every vocalist is so different and not every mic is gonna work on every session, but I will say that I really liked the V6 on male vocals; it reminded me of another underappreciated sub-$500 condenser, the RØDE NT2. It had all the nice upper-midrange of the RØDE, but what set the V6 apart for me was its high end, which seemed to sizzle without sounding overly sibilant. (My RØDE has that high-end distortion-like sibilance, a bit like you might hear on old soul or pop vocals — not always desirable.) Again, just a balanced, warm sound without lots of noise or nonsense.
The V6 is a great mic. I was skeptical at first, I think largely due to the claims that its sonic signature would be similar to a vintage tube mics. I mean, how many companies market their products as "vintage-sounding" or "warm" or "analog-modeled"? But despite all of that, I was easily won over by both the sound of this mic and by its value. Did I mention that you can find it for $299? Totally worth it.
($399 MSRP; MXL)
Read more about the MXL V6 Silicon Valve condenser microphone.